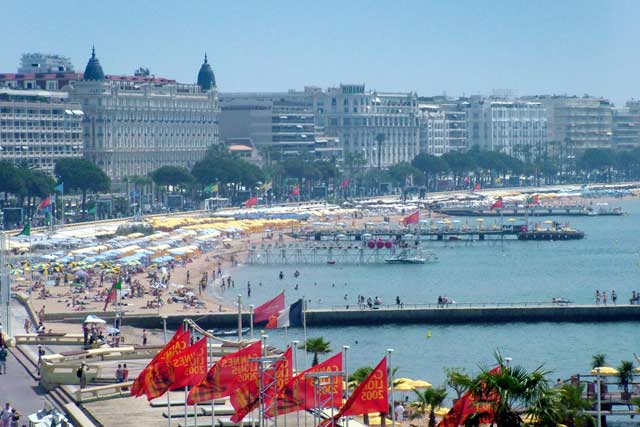 Some things about the Cannes Lions festival never change. The weather is warm, the cab fare from Nice airport is around the same as the national debt of a small African country and there are grumbles galore about good work being scuppered by tactical voting.
Usually, the bitching takes place over a few glasses of vastly over-priced rose on the Carlton Terrace.
This year, though, the private frustrations boiled over into the public domain with claims by Amir Kassaei, DDB Worldwide's chief creative officer, that some WPP jurors had been briefed to "kill" Omnicom networks.
His accusations provoked a "put up or shut up" response from John O'Keeffe, WPP's worldwide creative director. Accusing Kassaei of mud-slinging, he dismissed the claims as "laughable nonsense" and "utterly without foundation".
WPP's Sir Martin Sorrell fuelled the controversy further by suggesting that some jury members may have been pressured into block voting for certain entries.
His intervention came in the wake of a row at the Media Lions judging presided over by Mainardo de Nardis, the chief executive of Omnicom's OMD Worldwide and where Omnicom stood accused of using block voting. De Nardis rejected any such suggestion, saying: "My job was to check it wasn't happening."
Of course, allegations that Cannes bears comparison to the Eurovision Song Contest when it comes to voting is nothing new.
"Tactical voting has always been with us," Gerry Moira, Euro RSCG London's chairman and director of creativity, explains. "But while such voting used to be along national lines, it's the four or five international holding companies that have replaced national loyalties.
"There's no question that some jurors are trying to help their networks as much as they can. I wouldn't say they are pressured to vote the right way, but they're certainly encouraged to do so."
Media Lions juries seem to have become the focus of attention because of the way they are structured. They are less fragmented than their creative counterparts, where representatives from the major networks sit in judgment alongside others from small independent operations. Not so on media juries, where senior executives of the media agency powerhouses dominate. "These people all know each other's clients well, often because they are after their business," a senior executive at a major media group says. "So you don't want any of your peers looking good in a competition."
Some maintain the problem of tactical voting is made worse because it can be hard to spot and because the motives behind it - including disgruntled ex-employees taking revenge - may not be readily apparent.
All this invites the question of whether Cannes juries in general - and media juries in particular - need restructuring. Derek Morris, VivaKi UK's chief operating officer, suggests a two-stage judging system might make it harder for block voting to flourish.
But whether or not such voting is seriously risking the festival's credibility and integrity - as Kassaei claims - remains moot.
Since his outburst, Kassaei has kept his head down, saying he has nothing to add but denying earlier reports that DDB might boycott Cannes if block voting continues.
And, if it does, will it change outcomes significantly? Moira is doubtful: "Block voting might mean the difference between a silver Lion and a bronze one, but it will never stop a brilliant piece of work getting through."
CREATIVE HEAD - JOHN O'KEEFFE, WORLDWIDE CREATIVE DIRECTOR, WPP
"Amir Kassaei has made allegations that are utterly without foundation and, it would appear, simply to throw a smokescreen up because of the furore raised around the Media judging.
"Complaints around that category came from a number of people representing a range of companies, by no means exclusively WPP.
"Banging on about some conspiracy to 'kill' Omnicom and stating that everything he alleges is fact is a very dangerous game. But, frankly, it's such a laughable response that we can't be bothered to pursue it. However, I would advise him not to repeat unless he can provide a shred of evidence to back what he says."
NETWORK HEAD - DEREK MORRIS, CHIEF OPERATING OFFICER, VIVAKI UK
"As a former Cannes juror, I'm struck by how much less subtle block voting is and how much bolder some of it has become.
"The problem is a result of the sheer scale of the event that Cannes has turned into and the army of judges needed to process the thousands of entries it attracts.
"That means every judge has a say on everything and block voting is almost inevitable. One solution might be a two-stage process in which the first jury draws up the shortlist and a 12-member jury picks the Lion winners."
CANNES ORGANISER - TERRY SAVAGE, EXECUTIVE CHAIRMAN, CANNES LIONS
"We will not make any specific comments until we know the facts. We record every single vote made in Cannes, so we will do relative analysis post the event knowing that to win metal at Cannes on the largest juries, you need a two-thirds majority - that's to say 30 people - and that the largest contingent from any one holding company is six.
"I do not concur with the assumption that it is a problem in Cannes where 15 juries have been judging. Until we do that analysis, I don't think anybody else should make that assumption either."
CANNES JUROR - MICK MAHONEY, EXECUTIVE CREATIVE DIRECTOR, EURO RSCG LONDON
"Having been a Film judge at this year's festival, I can see that it's possible to misinterpret people's intentions when it comes to tactical voting. A juror from Argentina argued passionately for a film from his country even though it wasn't his own agency that produced it. He just felt we didn't understand what was good about it.
"I can't say hand on heart that block voting doesn't happen at network level, but creatives are in this for different reasons. If pressure is brought to bear, I've seen no evidence of it."