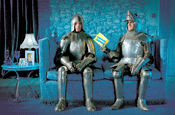 The DVD rental chain has approached a number of undisclosed agencies and asked them to submit proposals. It is not known whether it will move the business straight into one of these agencies, or call a full pitch.
The incumbent on the account, Mediaedge:cia, was handed the business in 2006 without a pitch. At the time, Blockbuster said it would double its marketing spend to £10 million in order to fight competition from film downloads and online DVD rental and retail companies such as Screen, Select and Amazon.
However, according to Nielson Media Research, Blockbuster only spent £5 million on marketing in 2007. This time, the company has also told agencies that it plans to increase its spend substantially.
Blockbuster is also aiming to reinvigorate its UK high-street presence, which is the American-owned chain's biggest outside the US, with more than with 700 outlets. Its stores have been moving towards a bigger focus on retail rather than hire.
Blockbuster has also bolstered on its online service at blockbuster.co.uk, but still faces the challenge of "download to own" - an online distribution system backed by film studios.
Last year, Blockbuster US acquired the download service Movielink, adding downloadable films to its offering.