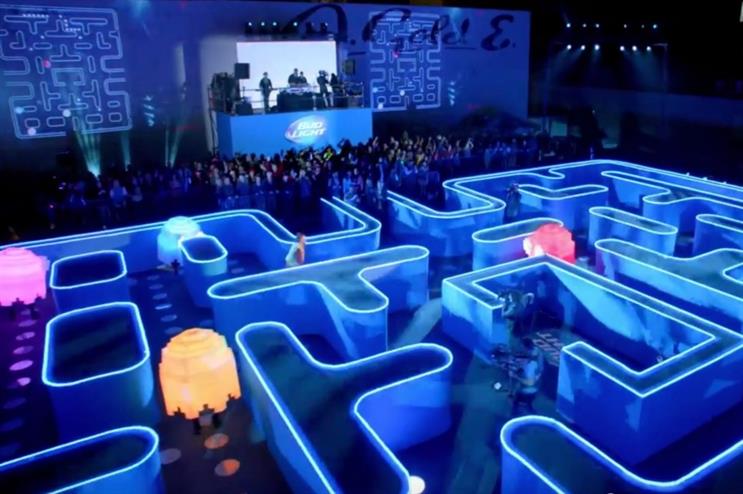 Over the years there have been many attempts to define experiential marketing, and generally they have fallen short. This is hardly surprising, as recognisable examples of the discipline have taken on an unlimited number of forms.
In fact, they continue to change and push the boundaries, incorporating the latest technologies and techniques to amplify activations, extending their reach through social media, for example, and making them more engaging, such as immersing people more deeply using virtual reality.
This means core experiential activity can now be as varied as two people sharing an experience in the real world or thousands immersing themselves in a brand at a music festival. They can be standalone or part of an integrated campaign. Sometimes they can seem like different disciplines, and don't even involve an actual physical experience.
Budweiser's TV and YouTube ad for the 2015 Superbowl featured a live Pacman game at its core with viewers seeing a man taking on the live challenge. The vast majority of the huge audience this campaign reached made no physical contact with the experience itself, viewing it virtually.
This is in marked contrast to The Economist engaging potential subscribers in central London by offering them ice cream containing insects to illustrate a possible solution to the global food shortage issue. Yet both were highly successful and both are experiential. They share no format or formula, goal or purpose, and we wouldn't even place them in the same strategic marketing territory.
So does this make experiential marketing impossible to define?
No. Actually it's pretty simple. What marketers need is a holistic definition of experiential that encompasses all the discipline has to offer, acting as a platform from which to create great work yourself.
The easiest way to think of experiential is simple: Communication through creating or doing something tangible in the real world. There is no need to complicate it any further than that.
This definition holds true from the most basic sampling campaign (where you actually get to hold and taste the product), right through to outlandish YouTube stunts, which gain traction through their edgy 'reality TV' nature.
The crucial thing to understand about this definition, and experiential in general, which separates it from many other fields of marketing, is this: experiential is a technique, not a channel.
Historically we've grown used to discussing marketing disciplines by referencing the physical format in which they're delivered, their channels. TV is 'on TV', print is 'in print', and even social is typically 'on social channels'.
This approach has never worked for experiential (causing great confusion), simply because experiential actions can take on any form you wish. They represent, in effect, an absence of channel – which is why they often work hand in hand with other media for the purposes of amplification.
The clue is in the grammar. 'Experiential' is an adjective, not a noun, so describing a campaign as experiential is more akin to describing a campaign as 'scary' than outlining its physical format.
It is this ability to think outside marketing channels which separates brands who 'get' experiential from those who don't.
Comment below to let us know what you think.
For more in-depth and print-only features, showcases and interviews with world-leading brands, don't miss the next issue of Event magazine by subscribing here.