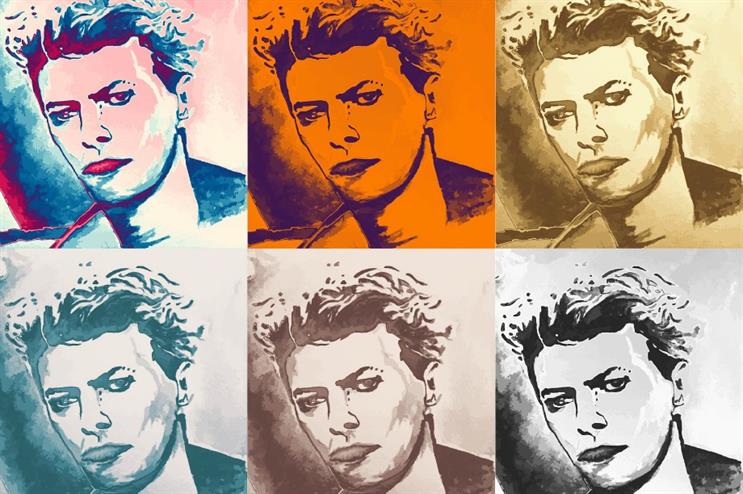 2016 – it will be a year to remember for many reasons. For one, it was a year where we lost some rock and roll greats that we will not soon forget. I think it's fair to say that people like David Bowie and Prince were not only great performers, they were and are still very powerful brands, and I predict they'll continue to inspire not only fans, but corporate brands in years to come.
The David Bowie exhibition at the V&A back in 2013, last year's Rolling Stones Exhibitionism at the Saatchi Gallery, and now the V&A's upcoming Pink Floyd showcase called Their Mortal Remains are testament to the power of band experiences.
Its no surprise that these exhibition experiences are very popular and very successful – the David Bowie exhibition generated £3.6 million in merchandising sales alone. We love these band brands, but what is it that makes them so powerful and enduring? What lessons can corporate brands learn from the band brand experience?
After attending – and really enjoying – both the David Bowie and Rolling Stones exhibitions, I have a few thoughts:
Yes, the music but much, much more
First things first, it's important to note that these exhibitions are about so much more than the music. The music is of course great, and it sits at the core of the bands 'product', but at the same time the band brand is a much more complex mix of music, personalities, collaborators, art, fashion, design, history and lifestyle. Each of these brand components is critical to experiencing and engaging in the whole brand story.
Similarly, corporate brands are much larger and more complex than their products alone. Of course, corporate brands have products, leaders, personalities, culture, imagery, history and an ecosystem of customers, partners and collaborators that are all important components of the brand. The most successful brands create experiences that bring all of these important dimensions together in an authentic and engaging story-world that brings every aspect of the brand to life so that it emotively connects with consumers.
The design and production values of the Rolling Stones and David Bowie ensured these exhibitions were amazing experiences. Their organisers completely immersed participants in an environment and narrative that was engaging, moving and memorable. From curated spaces, the guitars they've played, to album cover artwork and the fashion items they've worn, these exhibitions proved that the band brand experience is multifaceted and intoxicating.
Humble beginnings
At the Rolling Stones exhibition, there was a tunnel where visitors could listen to an audio track of the band's lead singer, Mick Jagger and guitarist Keith Richards discussing how they met. The tunnel then opened onto a re-creation of the band's first apartment at Edith Grove in Chelsea – a humble if not nasty re-collection of their flat – the smell, dirty socks, beer and cigarettes.
This is one thing that all of the most famous of band brands seem to have in common – they came from humble beginnings and succeeded through their persistence and hard work.
In March 1957, John Lennon, then aged 16, formed a group with several friends from Quarry Bank School, ultimately calling themselves The Quarrymen. Fifteen-year-old Paul McCartney joined as a rhythm guitarist shortly after he and Lennon met that July. Richards and Jagger were childhood friends and classmates in Dartford, Kent. Meanwhile, Bowie formed his first band in 1962 at the age of 15, playing guitar-based rock and roll at local youth gatherings and weddings.
The humble beginnings narrative is also integral to some of the world's leading corporate brands. William "Bill" Redington Hewlett and David "Dave" Packard founded HP in a one-car garage in Palo Alto, and they initially produced a line of electronic test equipment. Paul Allen and Bill Gates were childhood friends with a passion for computer programming, and of course the history of everyone's favorite start-up – Apple is a tech fairytale of one garage, three friends and again, very humble beginnings.
We all love a story where someone finds great success through hard work, perseverance, and their ability to create awesome products. This means corporate brands should not underestimate the power of creating experiences that remind us of from where they came.
Stay tuned for part two of Myhre's blog, where he reveals what we can learn from Madonna, creating long-lasting memories and the concept of 'brand fans'.
Kim Myhre is senior vice president and managing director at FreemanXP EMEA.
Comment below to let us know what you think.
For your daily hit of news from the brand experience community, weekly brand and inspiration updates or your monthly trend download, register and subscribe to Event and our bulletins.