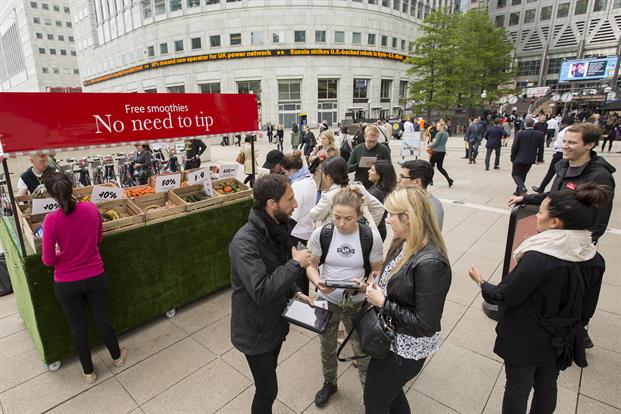 Connecting with people in the real world has never been more important to brands. Investment in experiential was up 6% in the first quarter of 2016, according to the latest Bellwether report, only one of two disciplines that saw an increase in spend – internet marketing was the other. Meanwhile, real world activations increasingly lie at the heart of a wide variety of campaigns, amplified through social and online channels to drive consumer engagement.
This means that those teams that represent brands at vital consumer touchpoints at the cutting edge of experiential campaigns have never been more important. Yet in many cases the current crop of these 'brand ambassadors' are falling short.
The promises given a decade ago, when 'promotional staff' suddenly morphed into 'brand ambassadors' who would truly represent a brand and its core values, with a personality that was the human manifestation of its proposition have not been kept. The staffing pool has generally remained the same and agency processes unchanged. And now we find ourselves at a stage where traditional brand ambassadors are no longer enough.
Don't settle for less
The needs and requirements of brands are growing as they are diversifying and becoming more niche and specific in their personality and value traits, and the people who represent them and connect directly with their market face-to-face need to embody this fully. The fact that we now live in a world of instant customer feedback and user-generated content means that consumers are driven by personal recommendations like never before – and trust them over traditional marketing and advertising. So to truly make a connection, as well as embodying brand values, brand representatives need to resonate and have an affinity with the target audience – they need to be individuals who these consumers can identify with.
Brands should no longer – and cannot afford to – settle for less. Consumers need to 'get' today's brand representatives, recognising them as people they would take a recommendation from, who understand their needs and wants.
Every touchpoint
Once it was enough just to go into a shop and be met by a friendly face who would be able to talk you through the product range. Now brands like Apple have significantly raised the bar. When you go into the Apple Store every member of staff is an expert and you feel like they are an extension of the brand. It's not just that they know about the products, it's more that they truly reflect Apple's values. This approach is now vital at every consumer touchpoint, particularly in brand-critical situations like experiential campaigns, whatever form they take, from sampling to more sophisticated activations.
This requires a fundamental shift in the way brand representatives are selected. Rather than simply drawing individuals from the same pool of experiential staff, a team should be hand-picked for each activation. Individuals should be chosen for their affinity with a brand and how they will resonate with the target audience. They should then be immersed in the brand's values and trained specifically for a particular activation.
The right fit
The team that represents The Economist in its award-winning experiential subscription campaign were carefully selected not simply for their promotional marketing experience, but for their affinity with the brand. Many had not represented a brand before, but were considered the right fit in terms of interests, personality, skills and values. They then underwent rigorous brand and sales training specifically for the role.
"The team are sharp, outward thinking and able to start a conversation to create intrigue about our content – and product," explains Marina Haydn, SVP of Circulation and Retail Marketing at The Economist. "This has led to exceptional sales results in our UK experiential marketing and internationally. The reason behind the success is not only the training – but the focus on finding the right people that fit the brand from the outset."
In an era where consumers are demanding more authenticity and personality from their brands, and experiential activity is becoming increasingly sophisticated, real world activations run by off-the-peg staff will no longer cut it. Brands need to wake up to this and ensure they are getting the real world representation they, and their audiences, deserve.
Cathy Henderson is director at Real People, part of marketing agency Sense.
For more opinion check out Event's blogs.

Comment below to let us know what you think.
For more in-depth and print-only features, showcases and interviews with world-leading brands, don't miss the next issue of Event magazine by subscribing here.