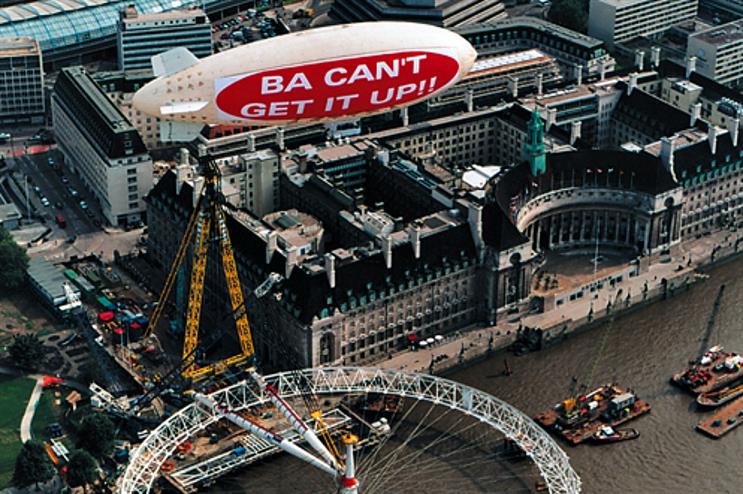 Publicity stunts have a long history as a disruptive tactic for brands looking to generate word of mouth quickly. From the famous Marilyn Monroe skirt billowing image (yes, it was a stunt not quite the fortunate paparazzi shot most people believe it to be), to a little event known as the Tour de France, publicity stunts have proved their worth time and time again. We've seen pink streets to boost sales of Barbie, naked calendars featuring baked goods to raise money for charity and bras worth over $5m. But why? Why do companies go to the lengths they do to produce these stunts? The answer is simple… the 'free' attention. A well-executed PR stunt can bring the kind of attention to a brand that money simply cannot buy, aligning brands with a particular culture or ideology, giving them 'personality', and thrusting them into public consciousness while often successfully bypassing traditional marketing tactics.
Though stunts continue to grow in popularity, the seismic shift in the how experiential PR stunts are undertaken should be noted, in an era increasingly dependent on Web 2.0. The insatiable 24/7 news updates and dominance of social media have changed the way stunts reach mass media, presenting both challenges and opportunities for brands. With that in mind, we look back on a few notable experiential PR stunts from the last 20 years and highlight key takeaways from each.
PR Stunt 1: Gail flashes the Houses of Parliament (1999)
Projections onto Big Ben may be overdone now, but the craze officially started with Gail Porter back in '99 - let's face it, you've seen the pictures. BBH projected the image to promote FHM's 100 Sexiest Women Poll (welcome to the 90's), making it onto the ITV News and cementing its position as one of the best stunts of all time.
Takeaway:
Think about your resultant content; almost all stunts demand an image or video element. This stunt was beautiful in its simplicity and the strong imagery it provided. Brands should avoid overt corporate branding or logos, press are more likely to respond to a stunt that doesn't need to be branded. Similarly, the best campaigns encourage the audience to question the activity and want to find out more.
PR Stunt 2: Virgin Atlantic over the London Eye (2000)
No stranger to publicity stunts, Richard Branson took the opportunity to parody British Airways, Virgin Atlantic's competitor, when the BA sponsored London Eye was out of operation in 2000. Commandeering BA's press launch, Branson arranged a branded airship to fly above the reclining Eye, carrying the message 'BA CAN'T GET IT UP'. Not bad for a budget of less that £10k.
Takeaway:
Some of the strongest campaigns are last minute responses to topical events - remember Oreo's opportune tweet during the US Super Bowl blackout? Virgin Atlantic responded quickly and piggybacked on the news agenda instead of trying to make their own story. They also reinforced their tongue-in-cheek personality, producing a laugh along the way.
PR Stunt 3: Red Bull Stratos (2012)
In 2012 Red Bull broke records with its Stratos space diving project when Felix Baumgartner became the first man to break the speed of sound in freefall after jumping from the stratosphere. He reached an estimated 833.9 mph and was viewed live by over 9.5 million users, setting a further record for the most concurrent views ever on a YouTube live stream. All in a day's work for Red Bull.
Takeaway:
In today's era of online video consumption, a stunt should work hard to produce sharable content. By using their already popular video platform and engaging brand advocates, Red Bull guaranteed their stunt reached much further than traditional press channels could have achieved. Consider your content and its shareability, engage a video seeding partner like Unruly or use Facebook's segmentation platform to ensure your content reaches the correct audiences.
PR Stunt 4: Ad Block at Piccadilly Circus (2016)
While maybe not quite as iconic as the other two examples, Simon Carr and Tristan Lenczner's recent work 'adblocking' the infamous lights of Piccadilly Circus can only be described as pure genius. The lights are synonymous with advertising and so, when they learned that the ad spot would go dark for eight months as part of screen revamp project, the pair creatively plastered an adblocker sticker in front of the screens… guerrilla marketing and simplicity at its finest.
Takeaway:
Another brilliant example of using a current news story, this stunt also engages the audience on a more meaningful level tapping into a broader conversation that affects us all. While not 'brand-led' as such, the stunt's intelligence ensures the people behind it are seen as industry leaders.
Ultimately, in the new digital era whereby ad blocking and skipping is an everyday necessity for most, not an option, PR stunts are a clever way of cutting through the traditional ads to grab much sought after customer attention. Executed well, stunts also have the potential to create shareable content through videos, extending the life and reach of a campaign and creating another consumer touchpoint. For inspiration take a look at brands such as TransferWise, Paddy Power and Virgin who are pushing the boundaries to develop impressive content off the back of intelligent and humorous publicity stunts.
Sibilla Foxton is senior account manager at House of Experience.
More: Last month, Amazon rebranded Westminster tube station to Webminster to publicise its web services and cloud computing business.
Check out: Five of the most memorable PR stunts of 2016
Comment below to let us know what you think.
For your daily hit of news from the brand experience community, weekly brand and inspiration updates or your monthly trend download, register and subscribe to Event and our bulletins.
Follow @alison_ledger