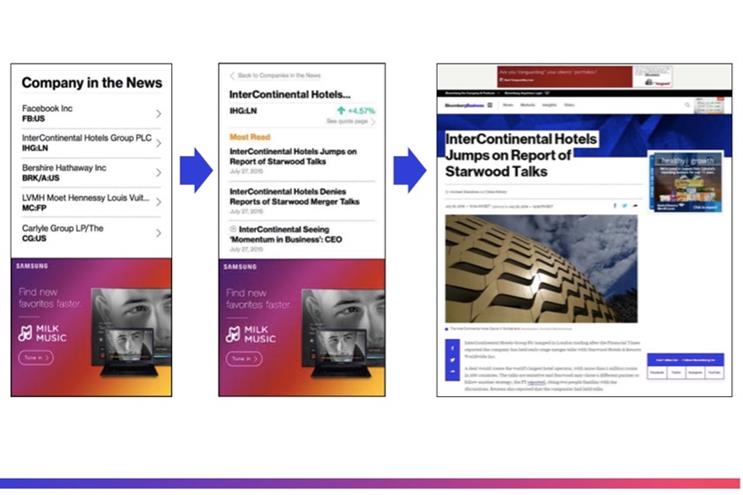 Already available in the US, B:Match is a service that uses first and third party data to segment the audience and analyse their engagement behaviour.
Paul Caine, global chief revenue and client partnerships officer for Bloomberg Media, described how B:Match had benefitted one client in the US who was targeting young, individual investors. While traditional display was performing in line with expectations, insight from B:Match suggested optimal times, which stories the ads should appear next to, and even specific words and colours the creative should use.
Caine said these changes resulted in a 200% to 400% increase in the client's KPIs.
Social Connect 2.0 allows advertisers to segment audiences by referring social domain, so messages can be tailored to visitors from Facebook, Twitter, LinkedIn, Reddit and Google+.

Trendr allows advertisers to buy inventory in a trending companies widget and follow the user to the destination story. Caine said the "ad flows through experience from moment of discovery to moment of delight."
Also speaking at the Upfronts, Matt Teeman, commercial director at Bloomberg EMEA, discussed video formats in development that would target Bloomberg's audience with different content formats according to the time of day or week.
The Morning Brief is a sponsorable one minute long online video that would help viewers begin the day with a preview of the big stories.
Bloomberg Best, on the other hand, is a catch up 30 minute show, designed for TV on Friday, Saturday and Sunday.

Teeman told Brand Republic that Bloomberg was looking to develop these with a commercial partner.