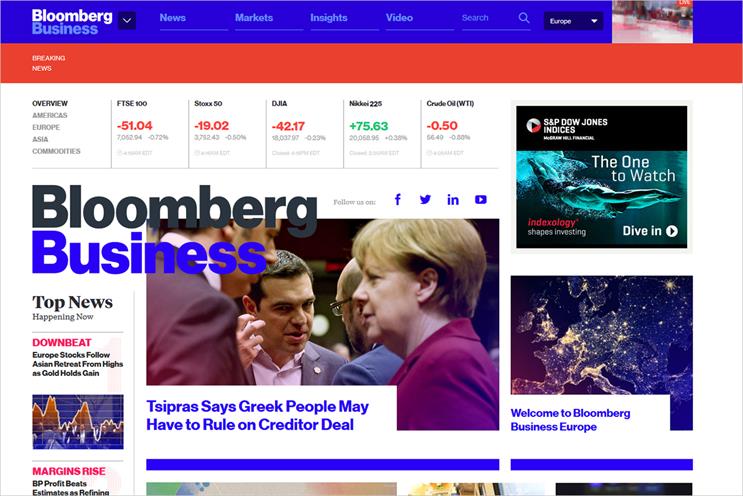 The European edition of Bloomberg Business is the first in a set of regional digital brands the company is rolling out as part of its multi-platform global strategy.
The company said the new product would deliver more localised, relevant content, advertising products, live events and licensing deals.
It was developed by Adam Freeman, the managing director of Europe, Middle East and Africa, who hired Matt Teeman as commercial director, Bloomberg Media in July.
Justin B Smith, the chief executive of Bloomberg Media, said: "We are building a portfolio of new digital assets that align our content with the interests and behaviours of today's international business leaders.
"The European edition of Bloomberg Business is another step in our ongoing strategy to customise Bloomberg's high-quality digital content for influential business leaders globally."
Penny Bartram, the new head of solutions for Europe, Middle East and Africa, will join the regional commercial senior management team from 5 May and will report into Teeman.
Bartram was previously the development lead at Clear Channel International's sales force effectiveness department. She has also worked at Guardian News & Media, where she held various roles.
She said: "Bloomberg is a unique, powerful brand, and that, coupled with the mix of editorial and commercial innovation already proceeding apace within Bloomberg Media, makes this opportunity hugely exciting for me.
"I look forward to working with Matt and the wider team to continue to drive forward the development of cutting edge content solutions for clients."
Michael McCullough, who worked previously at the New Scientist, will also join as an agency account manager on 11 May.
Teeman said: "These latest appointments really demonstrate our commitment to widening our offering to clients and agencies. Both Penny and Michael bring with them a raft of top-level experience and I'm delighted to be able to welcome them to the team.
"The launch of Bloomberg Business Europe is a significant moment for us. In particular, we look forward to working with commercial partners on the localised targeting capabilities the new edition gives us."