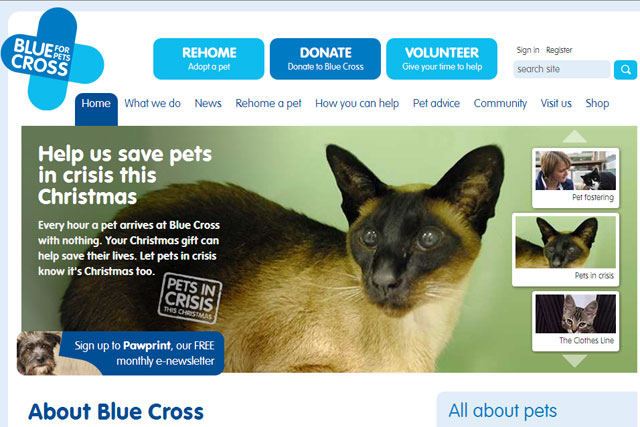 The ad shop M&C Saatchi, data strategy division M&C Saatchi Milk, M&C Saatchi PR and Walker Media will work together to deliver the charity's advertising, content, CRM, social media, consumer PR and media planning and buying.
The group has been tasked with delivering a "step change" for the pet-focused charity in order to drive awareness, build engagement and increase support.
Kim Hamilton, the chief executive at Blue Cross, said the appointment followed a "thorough process involving some of the best agencies in the UK".
Hamilton said: "Together we aim to increase the awareness of our work to allow Blue Cross to help even more pets. Demand for our services continues to rise, and many pets still face an uncertain future.
"We need more supporters in order to meet that demand. Working with M&C Saatchi will help us achieve a breakthrough in awareness and see the increased support we need to stop the suffering of thousands of vulnerable pets."
Camilla Harrisson, who became the chief executive of M&C Saatchi in September, led the group's pitch.
Harrisson said: "From the very start of the process, we found a shared belief in how breakthrough creativity can drive the engagement and support needed to build on the fantastic work they are already doing.
"Across the group we are looking forward to working with them to help drive further support for this very special charity through brutally simple creative work."
Blue Cross has been helping abandoned or unwanted, ill or injured animals since 1897.