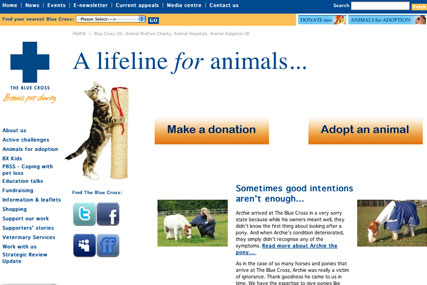 The campaign, produced by marketing agency Rapp, will involve multi-format banner ads which contain no Blue Cross branding but feature a dancing dog and the words "What's the song and dance about?", with viewers directed through to a microsite.
The microsite features animated dogs and cats singing and dancing on a disco dance floor to a re-recorded version of the Bee Gee's hit 'Staying Alive'. The animated animals are meant to signify homeless pets.
As the song progresses the words "Thousands of pets are only staying alive thanks to the work of The Blue Cross" appear. Towards the end, the scene changes to a moving picture of the lead dog being left out in the rain and the words change to "But many more still need us."
Viewers can click "send to a friend" or "donate" at any point. Once they hit "donate", they are re-directed to the main Blue Cross website.
The end frame features another call to action: "Please spare a thought for the thousands of pets who are at risk of being put down simply because they have no home. Start a regular gift of £2 a month and you can help The Blue Cross find loving new homes for these unwanted and abandoned pets."
This latest digital campaign from The Blue Cross follows on from its Talking Pets viral campaign last year, which was designed to drive users to a social network that it launched called All About Pets.
Julie Jeffes, acting director of fundraising at The Blue Cross, said: "Our recent Talking Pets viral campaign was tremendously successful but this time we wanted to do something entertaining with an underlying serious message that would help raise money.
"We urgently require more regular donors to continue our work helping thousands of sick and homeless animals every year, so we hope this campaign will engage younger audiences and prompt more donations."