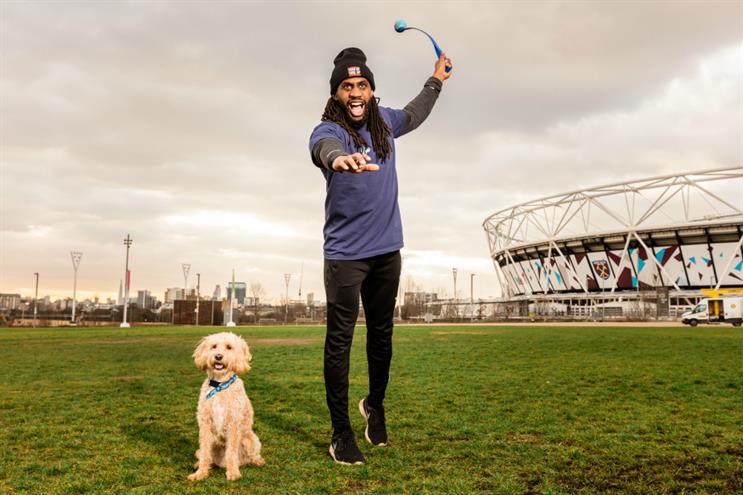 Taking place from 30 January - 3 February at Victoria Park in London, the bootcamp will see guests taking part in traditionally canine activities such as a high-intensity
ball fetch, tug-of-war, digging and doggy stretches.
The workout has been created by Blue Cross and fitness instructor Born Barikor, and aims to showcase how a good amount of exercise is essential to keeping dogs healthy and happy. Blue Cross has said that a number of the dogs it sees being brought into its centres have developed behavioural needs which stem from under-stimulus or lack of appropriate activities and exercise.
The workout will begin with an eight minute warm-up, featuring agility training, an obstacle course and hurdle exercises. Guests will then move on to a 10-minute trick circuit, which will see them follow commands like get up, down, rollover, sit, and stay whilst working through squats, planks and more. A games round comes next, with guests taking part in a HIIT ball fetch activity, frisbee and tug-of-war, followed by a final cool down consisting of stretches and a 'howl of happiness'.
Bootcamps kick off at 7.30am, with each bootcamp lasting 45 minutes. The activation has been developed with agency Cow PR.
Mandy Jones, director of rehoming for Blue Cross, said: "We hope the Work Out Like A Dog bootcamp will be an eye-opener for dog owners and would-be dog owners. Humans can communicate when they feel frustrated or want a change of scenery; if they need to let off steam with a good long run they just head out and do it. By contrast most pet dogs are completely reliant on us picking up signals that they require some stimulation or have to spend some energy. This workout should remind everyone what a huge emotional and physical difference it can make when we get that right."
Barikor said: "Anyone would agree that in addition to losing weight or toning up, regular exercise acts as an incredible release for pent-up energy or stress. We weren't designed to spend all day cooped up and sedentary - and neither were our furry friends. With Work Out Like A Dog we wanted participants to channel the joy a dog feels playing their favourite games in the park, as well as the physical benefits."
Last week, Cow PR worked with gym brand David Lloyd to create the 'Run for your Bun' café concept, which invited guests to pay for their lunch with exercise. Earlier this week, insurance brand More Than created a tour of London landmarks and open spaces for dogs and their owners.