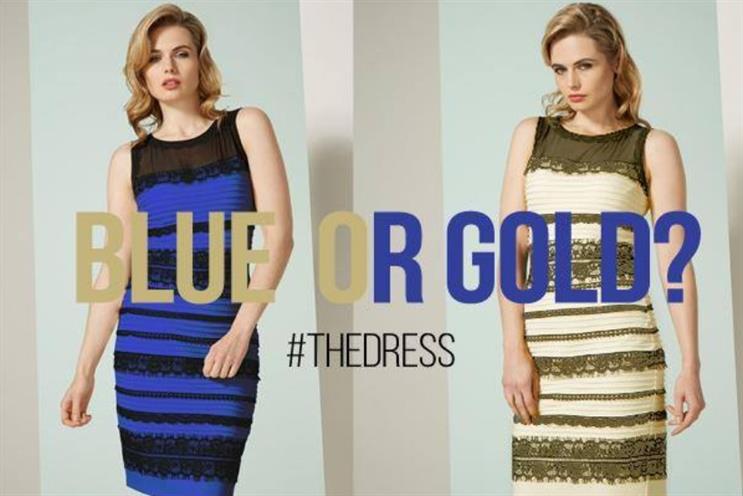 Roman Originals, the brand behind the dress, didn't know or expect that it would become the centre of a social media phenomenon that peaked at the end of last week.
The post that kicked it all off was by a Scottish singer/songwriter who posted an image to Tumblr on 25 February, asking people whether a dress was gold and white or blue and black (the dress is actually blue and black). Many experts have emerged with explanations as to why people see the different colours and celebrities including Kim Kardashian and Kanye West weighed in on the debate, helping propel the story into social media phenomena. Tumblr released figures after the weekend revealing the original post had been viewed 73million times.
With the original post not mentioning Roman Originals, the maker of the dress, it had to be quick off the mark, using social media and real-time data, according to Adrian Addison, head of ecommerce for Roman Originals.
"The original post came from a Scottish singer/songwriter on Tumblr and through the power of social media sharing it became viral. We certainly weren't expecting it and it's almost impossible to create an advertising campaign that would spread that quickly, so the key for us was being to react in a timely and effective manner," said Addison.
We can confirm #TheDress is blue and black! We should know! http://t.co/qAeIIHzJxk pic.twitter.com/kkxjUbmgI3

— Roman Originals (@romanoriginals) February 27, 2015
Roman Originals took to its social media channels to put out reactive content and drafted in ad tech business Quantcast to help it create paid ads that adapted to the interest in real-time using data. The company also sent creative to its stores, so that window promotions could reflect what was happening online.
"Straight away we ran our own social media campaign off the back of it on both Twitter and Facebook. We made sure that we updated all of the creative to reflect this opportunity. Onsite we changed the homepage to promote the dress added '#TheDress' to the product title and ran a competition to win #TheDress to increase subscribers," said Addison.
Core to its ability to react, Addison told Marketing, was the access it had to real-time data via Quantcast. This allowed it to understand more about how the conversation was happening and where, so that it could create ads that were better targeted and more relevant.
The ads used images of the dress that shifted in colour, as well as including social media calls to action that the brand was monitoring and responding to.
According to Addison, increasing sales wasn't the only goal. "We did see an increase in sales but we also wanted to capitalise on this from a brand engagement perspective in particular. The Visits to our site increased significantly to 1.2million," he commented.
"We saw an increase in product detail views of over 3000% on the day. That is massive exposure for our brand that we were able to capitalise on because we could see the data in real time. These days I think it's incredibly important that brands have access to that data as it happens or it would be really easy to either miss these opportunities or fail to understand what effect it was having on your brand," he added.
Roman Originals is now creating a limited edition gold and white version of the dress which it will be auctioning off on eBay, with proceeds going to Red Nose Day.
---
Recommended