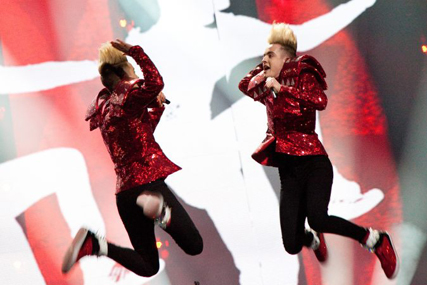 Blue, the noughties boyband and the British entry, could only manage eleventh place, while Jedward, the Irish duo who came to prominence in 'The X Factor' in 2009, fared slightly better, finishing eighth.
The UK could claim some vicarious success via winners Azerbaijan, who won with a total of 221 votes from 43 countries, with one half of the Ell/Nikki duo – Nikki Jamal – being a London resident.
The 'Eurovision Song Contest 2011' recorded an average audience of 9.54 million viewers and a 40.4% share on BBC One and BBC One HD between 8pm and 11.30pm, according to unofficial overnight figures.
Saturday's Eurovision average audience trounced last year's audience of 5.59 million, a 23.6% share.
'Britain's Got Talent', presented by Amanda Holden, Michael McIntyre and David Hasselhoff, had an average audience of 8.1 million on ITV1 and ITV1 HD between 8pm and 9pm, a 32.0% share.
During the 8pm hour 'Britain's Got Talent' beat Eurovision, 8.1 million compared with 7.4 million viewers, but the audience of 'Britain's Got Talent' did take a hit, 1.6 million viewers behind the equivalent episode last year.
Earlier in the day on Saturday a peak audience of 8.3 million viewers watched Manchester City lift the FA Cup at 4.50pm on ITV1 and ITV1 HD, a 54% share of TV viewing.
The full match coverage of the game, in which City beat Stoke City 1-0, averaged 6.9 million viewers on ITV1 and ITV1 HD, a 50% share of the available audience between 3pm and 4.55pm.