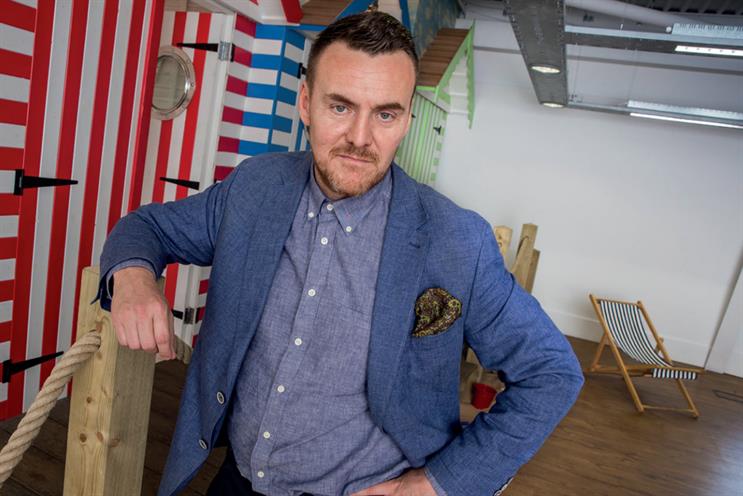 Two beach huts, one red and one blue, stand next to each other inside the Islington home of The Specialist Works – but they are not just fun meeting rooms. For Jim Lewcock, founder of the independent agency that counts Dyson, Boden and Ovo Energy as clients, they are part of his obsession with Blue Ocean Strategy.
That is the name of a book by two Insead professors who argue that most companies operate in the shark-infested waters of the "Red Ocean", where they compete over the same territory. By contrast, smart entrepreneurs and businesses move to the "uncontested waters" of the "Blue Ocean", where they thrive by exploring new areas, the authors say.
Lewcock, who loved Blue Ocean Strategy so much after reading it that he bought 1,000 copies, believes it's a perfect metaphor for the current state of media agencies. Most are stuck in the Red Ocean – commoditised, lacking differentiation and over-invested in digital where there is little margin, he says.
Naturally, Lewcock argues that his agency is in the Blue Ocean. The Specialist Works is certainly different. Lewcock calls it a "performance media network" that helps brands to acquire customers and drive direct response through printed leaflets and other traditional media.
Digital is barely 10% of the business, which claims £95m in annual billings. A boom area has been inserting leaflets into customers' ecommerce deliveries. The Specialist Works inserts six million leaflets a month into Amazon boxes and envelopes, and has similar deals with Ocado and Boden.
It is turning a retailer's physical network into a marketing asset, Lewcock says, and customers are more likely to be interested in receiving advertising in this environment because they have already shown a willingness to buy: "We found transactional media is three times more responsive than publisher media [such as newspapers and magazines] or social media."
The Specialist Works inserts six million leaflets a month into Amazon boxes and envelopes, and has similar deals with Ocado and Boden.
Clients are discovering they can profit from becoming media owners. "Boden is a perfect circle where we've turned their distribution into cash" – by letting other brands pay to advertise on printed leaflets inserted in Boden's ecommerce deliveries – "and we've used that cash" to invest in other marketing activities for the client, Lewcock says.
Lewcock founded the agency in 2003. He quit a sales role at IPC Media (now Time Inc UK) after winning a car in an in-house contest and sold it to start his business, The Insert House, which inserted leaflets in magazines.
His accountant father helped. "One of the benefits of having your dad as finance director is I've never driven a Porsche," he says.
Lewcock rebranded the agency as The Specialist Works in 2014 because, in his words, "a specialist always gets you a better return than a generalist". With £8m in shareholder funds, he was able to purchase a TV media buying agency, The Response Team, in Bath, last year and expanded into the US this summer by buying Elarbee Media, an Atlanta-based agency with a similar interest in traditional media.
He remains wary of digital advertising. "There is no buyer advantage, there's no agency margin," he says. "Clients can do it themselves – that's your Red Ocean." Being nimble – such as buying TV spots close to transmission – means The Specialist Works can get value for clients and the media planning is channel-neutral.
"We were attracted by their unique and flexible TV buying strategy," Zoe Kho, senior acquisition marketing manager at Ovo, says, adding that she likes how the agency isn't "tied into share deals" with media owners.
Lewcock says: "There is a way to construct a Blue Ocean media agency. It's got to be doing all the opposite things to what a network does and it's got to be attracting different clients. Investing half your agency workforce in digital is going to bite people on the arse."