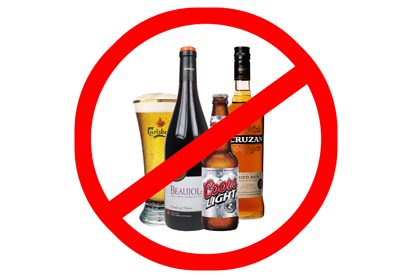 The organisation has also demanded an end to all promotional deals such as happy hours, two-for-one offers and ladies' free entry nights.

In a new report, the BMA suggests measures be imposed to curb alcohol consumption including a minimum price per unit on alcoholic drinks, a higher tax than the rate of inflation on drink and a reduction in licensing hours.

The author of the report, Professor Gerard Hastings, said: "Given the alcohol industry spends £800 million a year in promoting alcohol in the UK, it is no surprise that children and young people see it everywhere – on TV, in magazines, on billboards, as part of music festivals or football sponsorship deals, on internet pop-ups and on social networking sites.
"Given adolescents often dislike the taste of alcohol, new products like alcopops and toffee vodka are developed and promoted as they have greater appeal to young people."

All these promotional activities serve to normalise alcohol as an essential part of every day life, he added.

Dr Vivienne Nathanson, the head of BMA science and ethics, said: "The BMA is not anti-alcohol. As doctors our focus is to ensure that individuals drink sensibly so they do not put their health and lives in danger."

However, a spokesman for the ASA said: "Contrary to the BMA's report, the UK Advertising Codes are not voluntary. The codes are amongst the strictest in the world.

"The ASA rigorously enforces the rules and does not hesitate to take action if the rules have been broken."