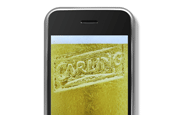 A Nevada based developer, Hottrix is attempting to sue the brewer for copyright infringement of its iBeer application.

The iBeer tool for the iPhone was developed prior to BMB's iPint, and for a charge of $2.99 allows iPhone users to play a video, that when held at the right angle appears as if the user is drinking the beer.

According to the lawsuit, which was filed on Friday afternoon in Los Angeles County, Beattie McGuinness Bungay contacted Hottrix to agree a license for the developers $2.99 application, which was refused by Hottrix.

The agency subsequently developed its iPint application for Carling that it says is significantly different from the Hottrix application in that it utilises the accelerometer inside the iPhone to simulate drinking beer, whereas the $2.99 application plays a video.

Hottrix's lawyers are arguing that by creating a similar application and releasing it for free, they have caused iBeer sales to suffer.

Lawyers for both parties are currently in discussion and it is not yet known whether the legal dispute will reach the US courts.