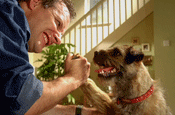 BMB has been briefed to help Wall's reposition the brand to reflect the public's changing perception of food. A new campaign, to run across TV, print and outdoor, will take a new direction from the brand's previous work, although it is understood that the Wall's dog, which has appeared in its ads for many years, is likely to remain. The work is expected to break in early 2008.

Wall's parent company, Kerry Foods, called the review in August after splitting with its agency of 12 years, McCann Erickson, over creative differences.

One of McCann's most recent campaigns, featuring the dog fighting with its owner, sparked controversy in 2004 over concerns that it would encourage animal abuse.