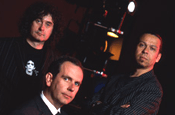 The deal has not yet been finalised, but is expected to be rubber-stamped over the next few days.

Bruce Haines, the former group chief executive of Leo Burnett who was drafted into Cheil to relaunch the South Korean agency as a global marketing services group, has made frequent visits to the UK in the last few months.

Cheil has ambitious plans for expansion, and Haines, the global chief operating officer, has been seeking a UK agency that has a strong enough brand to work in both the North American, and Asian markets for some time.
BMB was launched in 2005 by Trevor Beattie, Andrew McGuinness, and Bil Bungay.

It has total estimated billings of around £115 million, having more than doubled last year's total billings of £52 million this year through new business wins including ING, Freeview and Thomson Holidays.

The news of the sale comes just a month after talks between Omnicom and BMB over a potential sale and tie-up with TBWA London broke down at the 11th hour.
BMB had, however, undergone the requisite legal due diligence procedures prior to the deal falling through, allowing the agency to quickly progress talks with other potential buyers.