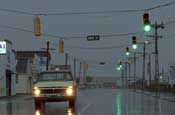 The 30-second commercials, by Euro RSCG, emphasise the satisfaction people experience when time is on their side. They use the line "that's bmi time", to reinforce the claim that bmi is the most punctual airline flying out of London's Heathrow Airport.
The first ad opens on a man driving along a dark, rainy road, every traffic light he reaches then turns green. A voiceover explains: "every now and then time just seems to be on your side, and nothing is in your way. That's bmi time."
A second commercial promotes bmi's frequent flyer reward scheme, by focusing on a man hitch-hiking on a freight train. The voiceover says: "of all the time you spend travelling, it's the free rides you enjoy the most."
The work, with media planned by PHD, breaks on 16 April.