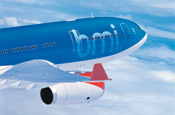 Following the recent announcement that bmi will begin using its former British Midland branding in overseas markets as means of accentuating quality, the carrier is to launch a series of Twitter, Facebook and YouTube pages.
Earlier this year, the airline also rolled out a destination guide widget with Wallpaper magazine, featuring live Twitter feeds.
"We have designed our social media strategy to offer an exponential increase in added value for our customers who choose to engage online, whilst ensuring the sustainability of interaction through a newly re-structured digital team," said Callum Adamson, head of search and social media at bmi.
Last month, bmi appointed Archibald Ingall Stretton to handle a portion of its digital advertising business. Its above-the-line ad account is handled by M&C Saatchi, with media handled by MPG.
The airline, bought by Lufthansa in October 2008, made record losses of £155m that year and suffered another tough 12 months last year. As a result, chief executive Wolfgang Prock-Schauer has confirmed plans to cut 800 jobs in an effort to save up to £100m per year.
Bmi is also set to cut a quarter of its capacity, reducing its cherished share of Heathrow airport landing slots from 12% to 10%, although it retains the second-largest presence at Heathrow after British Airways. It recently scrapped business-class facilities on domestic flights.