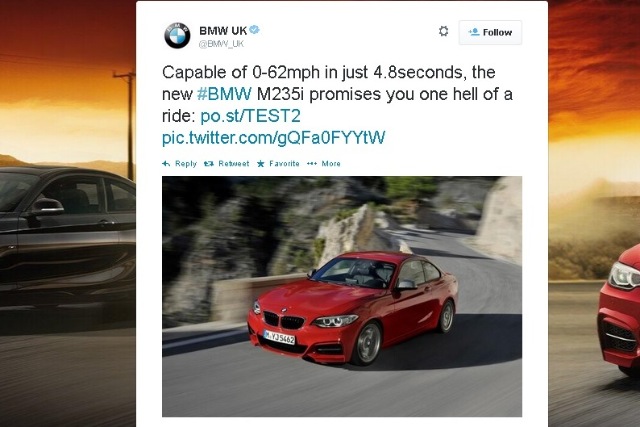 The promotion appeared in BMW's UK Twitter feed. It stated: "Capable of 0-62mph in just 4.8 seconds, the new #BMW M235i promises you one hell of a ride".
The ad also featured an image of a BMW turning a corner, with the background blurred to convey a sense of speed.
The ad received just one complaint on two counts – that the image, the reference to quick acceleration and the words "one hello of a ride" encouraged excessive speed and dangerous driving, and that speed and acceleration were the central message of the ad.
BMW argued that the tweet did not depict speed in any way that might encourage motorists to drive irresponsibly and break the law, but instead attempted to convey the driving dynamics of the M235i.
The automotive firm acknowledged that the blurred image depicted movement, but not excessive speed; and that the phrase "one hell of a ride" and reference to acceleration referred to the car's handling and sporty characteristics.
The ASA agreed that neither the blurred image nor the words "one hell of a ride" necessarily depicted excessive speed and therefore did not encourage speeding or dangerous driving.
But the watchdog also considered that marketers must not make speed or acceleration the main message of their marketing communications.
It ruled that on the basis that the "cumulative effect of the references to speed in the text and the image was to make speed and acceleration the main message of the ad overall", the ad breached the code.
The ASA told BMW not to make speed and acceleration the main message of its marketing.