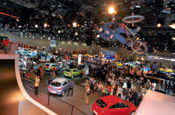 A report by data analysts Billetts claims that of the 10 biggest-selling motoring brands in the UK, BMW is getting the best value from its advertising, having spent an average of only £22 for each new car registration from 1 January to 31 August this year.
In contrast, the average adspend in the same period for French brands Renault and Citroen was £389 and £310 a car respectively. Ford spent an average of £114; Vauxhall £127.
Above-the-line adspend was higher per car for the niche brands. Lexus increased its spend between January and August to promote its hybrid products, but poor sales meant the activity cost £1600 per sale.
Richard Hemmings, head of insights at Billetts, admitted that BMW's results were distorted by the brand's high marketing spend in previous years.
He added that marketers can look forward to lower media costs in 2009, estimating that national press rates will fall by an average of 5% next year, and ITV's rates by 15%. 'Agencies [will be] able to get a better deal in the tough months ahead,' he said.
However, Mike Moran, managing director of marketing agency The Automotive Partnership, said the results should be read in context. On luxury US car brand Cadillac, which the report claims has spent £2475 per new car sale, he said: 'Bear in mind that it's the worst time to sell Cadillacs. You have to look at it from a share-of-voice perspective, as opposed to share of market.'
Top 10 carmakers by registrations ranked by ad spend per car
Carmaker
registrations
ad spend
spend per car sold
£
£
Renault
68,637
26,704,694
389
Citroen
55,928
17,334,607
310
Toyota
72,106
20,144,533
279
Honda
60,022
12,513,531
208
Peugeot
82,886
17,050,226
206
Audi
67,575
11,930,393
177
Volkswagen
120,368
18,714,097
155
Vauxhall
205,554
26,035,988
127
Ford
219,824
24,951,822
114
BMW
75,161
1,637,210
22
Total
1,464,124
26,704,694
233
Source: Ebiquity
5 carmakers who spend the most on advertising per car sold
£
£
Carmaker
Registrations
Ad spend
Spend per car sold
Cadillac
96
237,606
2,475
Lexus
6,913
11,029,415
1,595
Alfa Romeo
4,286
4,065,016
948
Jeep
2,985
2,719,675
911
Chrysler
4,772
4,313,817
904
Source: Ebiquity