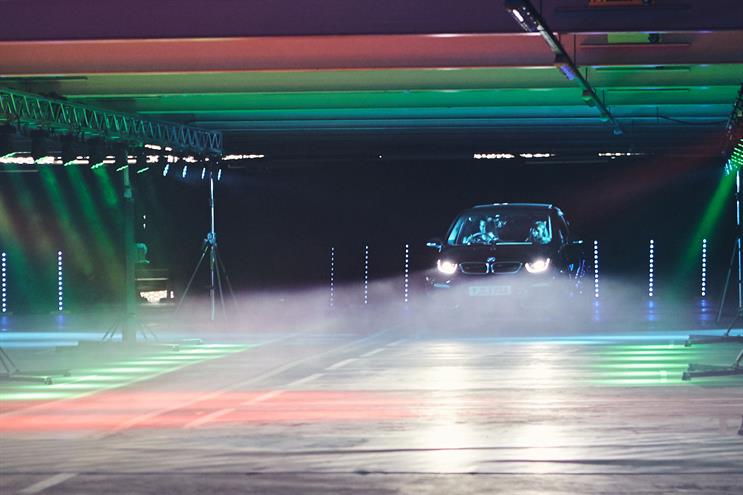 Sophie Chiappe, marketing manager for the BMW i brand of electric cars, said that about a year ago the company had not done a lot in terms of experiential.
Speaking to Campaign before the launch of the BMW i3 activation at Westfield Stratford on 13 October, she said: "I think we feel like we've got the opportunity to cut through a busy market. [Experiential] is a channel where you can be quite targeted in who you're appealing to and I think experience is providing people with the opportunity to then also share content themselves."
Chiappe is working with FCB Inferno to take over the entire floor of shopping centre car parks to promote the BMW i3, and giving people the chance to test it out.
The activation begins with an education area where people can look and touch the car, and learn about the different aspects such as its sustainability credentials and how it has been manufactured.
Then, people are invited to jump into one of the cars and drive into several different experiences that show how quiet the car is, how fast it can go as well as other features.
The sound area is dimly lit and is designed to show people that they can hear everything around them, and not the car. For the speed test, there's a short acceleration area where drivers can feel how quickly the car can pick up speed.
Chiappe explained that by activating in shopping centres, the brand is trying to appeal to a broad audience and show them that an electric car is good for families or couples.
She added that the brand is taking the car to the audience and has selected weekends around the school half term in a bid to attract more people. The campaign is supported with out-of-home activity which leads people to the activation.
The Westfield Stratford activation ran from 13 to 15 October, the experience will also be in Glasgow Buchanan from 20 to 22 October, and in Liverpool One from 27 to 29 October.