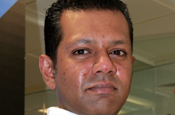 Hui, the former international planning director at Saatchi & Saatchi, joined Nitro just six months ago, with the brief to assist the managing director, Kate Howe, in driving growth at Nitro London, as well as taking on strategic planning responsibilities on Volvo.

Before joining Nitro, Hui had been lined up to take the position of executive planning director at RMG Connect, but he pulled out of the job at the last minute.

Hui's exit follows that of Paul Shearer, the former global executive creative director, and Johan Fourie, the former managing director, who left to set up Arnold UK in May.