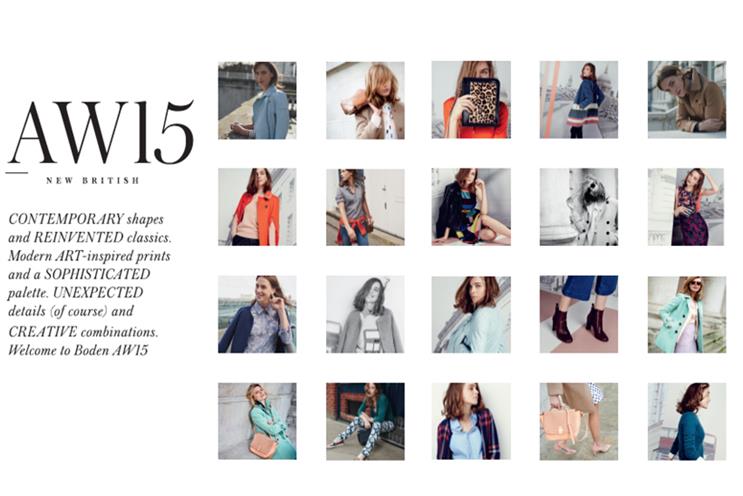 The digital catalogue, which launches this July, will sit within the Boden website and was created by BBH London. The digital catalogue, which is the first piece of work for the brand from BBH London, enables consumers to share looks with friends and post content directly to Pintrest.
Alex Matthews, head of creative technology at BBH London, says the rise of visual social networks demand a more simplistic approach to design. He explains: "De-cluttering was key you only need to see the clothes and then you can drill down to get more detail. It is a more engaging experience but it takes account of [consumers'] attention spans."
The move marks a shift in strategy for the fashion brand which has traditionally invested heavily in its traditional paper catalogue. Yet like many brands in its sector it is now addressing this over-reliance on paper formats. Although the brand will continue to send out its traditional catalogue the majority of its sales are now online.
Notably, in the age of the omnipresent smartphone the digital catalogue was created with an 'ipad first' approach in a bid to create a more engaging experience. The move reflects the challenged faced by brands as they attempt to replicate the sense of ritual that often accompanies consumers' leafing through their favourite catalogues and magazines.
"Our customers want to be inspired and shop in a way that suits their busy digital lifestyles better. Our new online version of the paper catalogue fits with that trend" experience the brand founder Johnnie Boden.
The brand's autumn winter 2015 collection aims to be 'braver and more ambitious than ever before'. It includes a specially commissioned print by artist Mark Hearld. In addition it is launching the Boden Icons brand; a limited edition range made with luxury fabrics.­­­­­­
---
Recommended