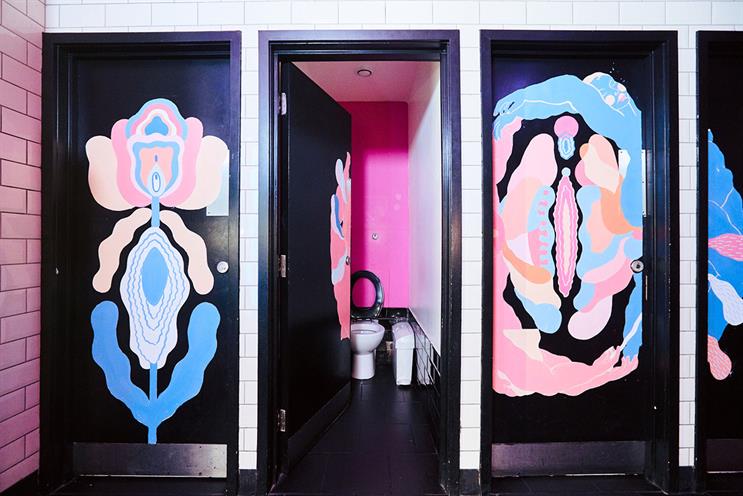 Bodyform is taking over London loos with paintings of female genitalia in an attempt to remove women's shame about their bodies.
The installations continue the brand's "Viva la vulva" campaign, which launched in the UK earlier this year and features a lip-sync ad celebrating vulvas in all their shapes and sizes. The work, by Abbott Mead Vickers BBDO, appeals to the 42% of women who have felt embarrassed about their genitalia and the 61% who have felt pressure for it to look a certain way.
Nearly half of all male toilets in the UK have at least one penis doodle present, according to the BBC, so Bodyform is turning this idea on its head with the "Viva la Vulva bathroom takeover". Art created by illustrator Oliwia Bober, who is known for her depictions of the female form, will appear on toilet walls and doors across London, starting with the Queen of Hoxton in Shoreditch.
The artwork is an extension of the I'll Say it Again festival, a celebration of women's voices through theatre, art and music, and will run until 1 June at the Tara theatre in Earlsfield.
Traci Baxter, marketing manager at Bodyform, said: "It is our mission to break down the taboos that hold women back, so naturally we want to help women celebrate and own their bodies. With our 'bathroom takeover', taking place at select venues where permissions have been granted, we want to celebrate the female form to ensure every woman feels pride in her body.
"Without a positive relationship with the most intimate part of our body, we can't have a positive relationship with ourselves."