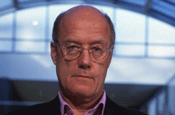 Simon Sherwood, currently group chief operating officer, replaces Bogle as Group CEO and Gwyn Jones, the former chief executive of BBH New York, becomes group COO. Sir John Hegarty's position as worldwide creative director is unaffected.
The changes are designed to strengthen the agency's global management team, and to promote management succession in key roles. Bogle will now focus on development of the BBH brand and on new ventures and revenue streams.
Sherwood joined BBH as its first ever account manager in 1982 and was appointed to the agency's board in January 1986. He was made managing director in 1991 before relocating to Singapore to start BBH's first overseas office in 1996. Two years later, he moved back to the UK as Group COO, responsible for worldwide operations.
Jones left BBH New York in July 2007 to take a sabbatical. He joined the agency as one of its first graduate trainees in 1987. Appointed to the board in 1994, Jones became joint managing director in 1998 and took over sole responsibility for the role in 2000. He was made CEO of the London office before transferring to BBH New York in 2004.
Bogle said: "As our business continues to expand and we look to open in India in 2008, we need more senior global management resource."
He added: "Simon's promotion to group CEO is richly deserved. He has been a truly outstanding chief operating officer and I know he will do a great job in managing the business globally. Stepping into Simon's role as COO, I also know that Gwyn is the ideal person to drive our business forward in all markets and strengthen our global position as one agency in six places."