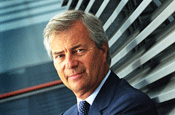 The billionaire Havas chairman is said to be so confident of success that senior managers within the group are being invited to suggest how some of the Aegis operating companies might be absorbed.

Havas sources predict that Aegis, the parent company of Carat, Vizeum and the market research company Synovate, will be under Bollore's control by the end of the year.

Insiders expect that an attempt by Bollore to capture Aegis for a knock-down price could lead his rivals, such as WPP, Publicis Groupe and Omnicom, to enter the fray.

Aegis' share price currently stands at around 110p, down from a high of 152p a year ago.

Bollore has been steadily building his stake in Aegis since August 2005. He owns 29.9 per cent of the company, just a fraction short of the 30 per cent at which he would be required to make a bid.

With a £1.6 billion estimated personal fortune, Bollore is seen as being in pole position to get Aegis.

Publicis Groupe is still bedding in Digitas, the digital marketing specialist it bought for $1.3 billion a year ago; WPP might run up against anti-competition rules.

A successful Bollore bid could result in WPP acquiring Synovate, a company in which the WPP chief executive, Sir Martin Sorrell, has shown a great deal of interest.

How Havas might assimilate the rest of Aegis is an open question. Group sources say Isobar, the Aegis digital division, could be aligned with Euro RSCG. But Carat would be kept apart from Media Planning Group, the power base of Fernando Rodes, the Havas chief executive and an influential figure in the group.

Aegis insiders claimed to have no knowledge of a Bollore bid, but doubted if he would be able to repeat the tactics he used to win control of Havas. "What he would like and what he can get may be two different things," one said.

Bollore associates believe there will be a heavy culling of the Aegis group management should he win control, but efforts would be made to lock in the most talented executives in the operating companies.
Onlookers suggest Bollore is being encouraged by the climate of tumbling share prices, and also by the French president, Nicolas Sarkozy, who is said to be keen on French companies occupying world-leading positions in key business sectors, the marcoms industry being one of them.