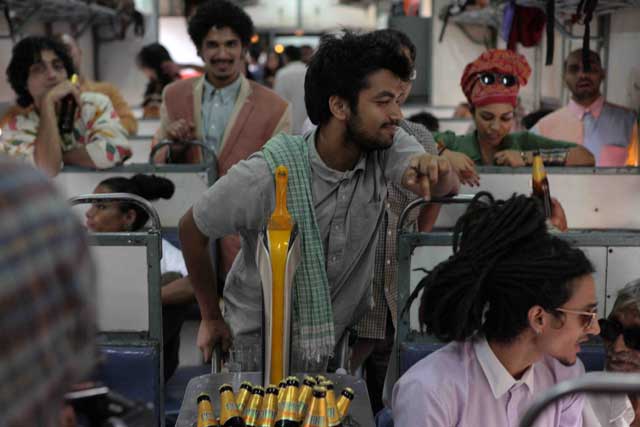 Work debrief
Cobra is the UK's number-one Indian beer brand and one of the world's most celebrated lagers, winning 55 gold medals at the Monde Selection Quality Awards.
The brief
The brief was to cement Cobra's position as a credible premium beer and get people drinking it in pubs and bars, not just curry houses.
The Creative idea
Leave preconceptions by the elephant. Excuse me for getting spiritual, but Cobra was born in India - a country steeped in tradition but where a new generation is rapidly rising and changing the cultural landscape.
We decided to sidestep the usual cliches and present a face of India that most people hadn't seen before, with one sandal planted firmly in tradition - in this case, the iconic train tearing through the Indian landscape.
It is, after all, a pioneering spirit and fresh take on heritage that originally inspired Cobra, a lager brewed to an authentic Indian recipe with a modern twist.
The Casting
Casting was central to the idea; we wanted to align the brand with this emerging generation - the stylish and modern India of today.
Authenticity was crucial - our train was to be populated with "real people", playing themselves, not actors.
The first thing we did was enlist India's only street-style blogger, Manou, and his cool, charming friend as casting directors. (Cool, charming friend later cast himself in that tricky role, the lead, so quite a result there.) Then they enlisted their mates: tattoo artists, fashion designers, stylists, models-turned-production company owners, street vendors, luggage porters and a wedding band - all hand-picked from the streets of Mumbai.
This would be India as herself, and we would have to take whatever she threw at us.
The Direction
I couldn't have hoped to work with a director more committed to the idea than Daniel Wolfe at Somesuch & Co.
He filled the train with an incredible cast and captured natural, cinematic moments. Of course, the shooting style meant that I spent a lot of time chasing him around the carriages trying to catch a glimpse of a tiny clamshell along with curious crew and cast members. Every now and then, Daniel would try to gain control of the situation by pointing me out in the growing crowd and yelling: "For madam! SHOW MADAM!"
His dedication extended to casting our characterful key grip mid-shoot, who, on the final day, had decided to strap himself to the roof of the train and film some scenic shots while we hurtled through the countryside. Once returned to safety, he was wardrobed, handed a pint and put in front of the camera.
The Media
Three of our cast members became key to the integrated campaign - Manou, the food writer Vandana Verma and BLOT, one of India's leading audiovisual collectives. We proposed a unique partnership with The Guardian to shoot mini-documentaries about each of these talents, delving into the worlds of fashion, music and food in modern Mumbai. It turned out to be a fruitful collaboration as our films became part of a bigger Mumbai travel guide on the Guardian website and appeared on its front page.
In addition, these three cultural entrepreneurs would provide regular updates on current happenings in India via Cobra's Facebook page, where a competition offers the chance to go and experience their vibrant world first hand.
The Writing
Thanks to an incredible client with complete faith in the idea, the script and look were able to develop simultaneously, taking shape the more time we spent in India absorbing our surroundings. (It turns out that India is one of the few places where the older people are so stylish that they can generally wardrobe themselves.)
Working with peers in India, who are doing exciting, inspiring things, confirmed for me the whole authenticity and credibility of the project. Like Cobra, they celebrate their heritage but have their own fresh take on it. They are pioneers in an exciting country that is changing and shaping itself at an incredible speed. This is a place where old and new, tradition and modernity, will sit side by side and create the "Indian New Wave", as BLOT called it.
For the last couple days, we were shooting scenery in Goa and had the privilege of being accompanied by a driver who doubled as a Bollywood trance DJ to ferry us between locations, curious to know who the star of our shoot was. I tried to explain that there was no star, just a cast of ordinary people like you and me. He shook his head in confusion and despair. Over the next two days, he repeatedly offered up the names of different Bollywood stars as more satisfactory casting solutions. Clearly, our fresh perspective isn't for everyone.
In a country that throws the unexpected at you every five minutes, I realise there is no pinning it down - every right has a wrong, and every truth has an opposite. You can't define India, you can only surrender to it.
Julia Martens is a creative director at Beattie McGuinness Bungay
Credits
Client: Kevin Wallace, brand director, Molson Coors
Creative agency: Beattie McGuinness Bungay
Creative: Julia Martens
Media agency: ZenithOptimedia
Media planner: Guy Edwards
Production company: Somesuch & Co
Director: Daniel Wolfe
Editors: Tom Lindsey, Dom Leung, Trim Editing
Post-production: Prime Focus, Framestore
Audio post-production: Ben Leeves, Grand Central