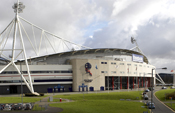 In a bid to create something new for the club's fanbase, new managing director, Tim Orrell will head up the team together with creative Paul Stearn.
Mike Needham, marketing manager at Bolton Wanderers, said: "Bolton Wanderers has appointed Golley Slater to develop several interesting propositions."
Bolton Wanderer's commercial and marketing teams will be working with Golley Slater to develop and deliver these initiatives, with the first being unveiled in the spring.
New managing director, Orrell said: "Golley Slater will be conducting research and workshops with fans and club officials to drive new innovation and to ask the fans their opinions on a whole variety of commercial products.
"These will then be developed into a strategy and delivered."
Prior to his appointment at Golley Slater, Tim Orrell was MD of sports agency Beyond 1, whose clients included Everton Football club.