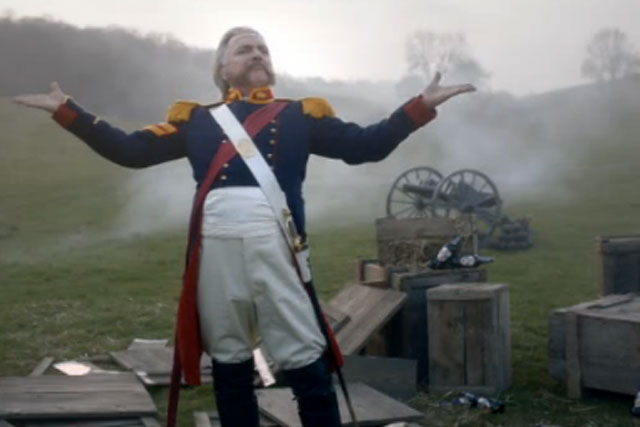 Although the characters in the idents were not drinking, Ofcom ruled that because a sexual act was implied and the Bombardier character is intrinsically linked with an alcoholic drink, the idents were still in breach of broadcasting rules.
The marketing for Wells Bombardier features a character called the Bombardier who is played by Rik Mayall and is similar to the character, Lord Flashheart, who Mayall played in the comedy series 'Blackadder'.
In the ident, called "the sweet kiss of summer", the Bombardier is seated and partially covered by a blanket on a battlefield. He looks to the camera and says, "Ah, the sweet kiss of summer".
A woman then appears from under the blanket and the Bombardier says, "hello Summer".
The woman looks at the Bombardier, smiles and laughs and goes back under the blanket, into Rik Mayall's lap.
The ident was one of around 140 made by Karmarama to support Bombardier's sponsorship.
In its decision Ofcom said the appearance of the woman from under the blanket in the Bombardier's lap and the script of this credit "clearly implied that the woman had been performing oral sex on the Bombardier".
Ofcom decided that the Bombardier character was "intrinsically linked" with an alcoholic drink, irrespective of the fact that the characters in the credit were not shown to be consuming alcohol.
As such this credit was found to be in breach of Rule 9.17 of the Broadcasting Code, with reference to Rule 19.6 of the BCAP Code.
A UKTV spokeswoman said: "This sponsorship credit was played after 10pm on Dave, an established channel positioned as the home of witty banter. However we apologise to any of our viewers who were offended by this sponsorship credit, which will no longer be used."