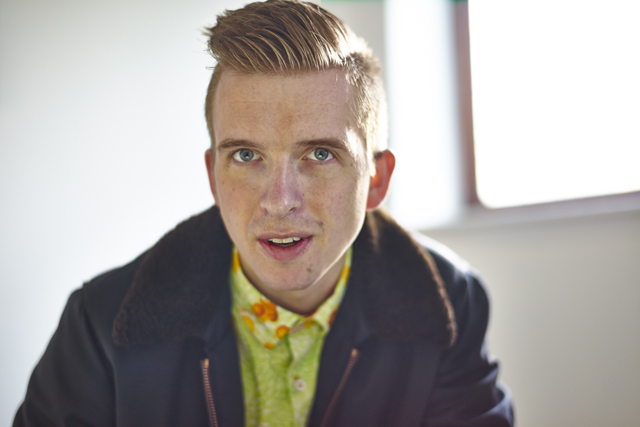 How can advertisers best articulate touch, taste and smell?
Growing up, I always thought my tongue was too big for my head. At first a source of embarrassment, it is now a compelling goad to creativity. At Bompas & Parr we design for all the senses. This means considering not only spectacle, sound and haptic sensations, but also smell, taste and the arena where these two intermingle - flavour.
Most folk are far more literate visually than they are when it comes to the odours, textures and tastes that compose a mouthful of food. This is well illustrated by truffles. Physicist and flavour expert Dr Len Fisher points out that "a full 40% of the population are 'tone deaf' to the core odours in truffles that gourmets rave about". Yet most people go wild for a "truffled" dish.
Although people have a highly developed sense of what they like, eating several times a day, they tend to be bad at articulating what their palate tells them. Language relating to these senses is used relatively infrequently. So when giving a friend directions, you're more likely to say "turn left at the hot-dog sign" than "turn left when you smell hot dogs".
What's more, environmental factors significantly change your flavour perception. This was the finding of one of my favourite academic papers, published in 2003 by Professor John Edwards. His team at Bournemouth University found that the same dish, chicken a la king, tasted different, depending on the environment in which it was eaten.
The meal was tasted in 10 distinct locations, including a school, a care home, an Army base and a swanky restaurant. The more salubrious the surroundings, the higher the score: in the posh joints, it was rated as moist, tasty and filling, while in one of the dives, it was perceived to be claggy, dry and disgusting.
In other words, if you eat in a space that looks magical, with proper service, the food and drink will be awesome - or at least you won't notice that it's grim. The people who eat at the Pirate's Dinner Adventure in Orlando, Florida, don't worry how "Pillager's Pork" or "Treasure's Chicken" comes, because they're eating in front of a fully rigged pirate galleon and being served by wenches.
Annual spectacles
Use this to your creative advantage to effectively articulate taste and smell. These days we typically spend only 20% of project time on the food aspects. The rest is used to engineer other means to demonstrate flavour. So when Vodafone asked us create a "First", we set one of the world's greatest annual spectacles, the London New Year's Eve fireworks, to flavour. Though flavour was an important component, far more time was spent collaborating with experts in other disciplines, including pyrotechnicians, composers, video artists, health and safety experts, academics and crowd flow technicians to make it happen.
With customers and consumers relentlessly writing their autobiographies, creating compelling experiences is important for success

.
The result was the world's first multi-sensory fireworks display, where all the senses had been consciously considered rather than being a byproduct of the pyrotechnics. Fruit held the key in terms of flavour and it was articulated and made legible through several media. So when red fireworks lit the sky, clouds of strawberry filled Embankment, turbocharged with video projection of strawberries, voiceover, interpretation and lighting effects.
This principle can be pushed further still. By using tangible analogies in other sensory realms, it is possible to effectively articulate flavour. The Schwartz ad does this gloriously by using explosions and music to dramatise the intense sensory effect of its Flavour Shots product.
Storytelling is fundamental in evoking flavour. Think of the power of the waiter who enchants your dish with an unctuous description. The "Sapeurs" ad tells little of the product, but has so much character that you want to reach for the dark heart of Guinness.
Taste and smell are so powerfully evocative that it's important, when working in the realm of the senses, to create real experiences that are manifest in the physical world. Though not dealing with the alvine apparatus, Motorola's "world's first interactive print ad" is a good example of generating a tangible experience, the sort that you can show your friends.
With customers and consumers relentlessly writing their autobiographies, creating compelling experiences is important for success. Flavour targets our fundamental primordial needs, becoming a powerful tool to hold people's attention and reward them with an endorphin rush. Just make sure to articulate it through every sense possible.
CRAFT CURATED
AXE
The insight that men are less aggressive when in love is the theme of this film, in which lookalikes of dictators use their armed forces to make their true feelings known to their lovers.
A serious and thoughtful "Make love, not war" message is a surprise change in direction for the Axe/Lynx brand, which normally relies on more base, teenage urges for its advertising.
Client: Tomas Marcenaro, global vice-president for Axe, Unilever
Agency: BBH London
Creatives: Daniel Schaefer, Szymon Rose, Jack Smedley and George Hackforth-Jones
GUINNESS
The "society of elegant persons of the Congo" (aka the "Sapeurs"), a real group of men with a deep-rooted pride in their aspirational culture, are the stars of the latest Guinness "Made of more" campaign.
The ad tells the story of how the men's lives are defined not by occupation or wealth, but by respect, a moral code and a desire to inspire others through their style and attitude.
Client: Stephen O'Kelly, marketing director, Guinness (Western Europe), Diageo
Agency: Abbott Mead Vickers BBDO
Creatives: Dave Buchanan, Nicholas Hulley and Nadja Lossgott
SCHWARTZ
Sacks of colourful herbs and spices are rigged to explode in perfect time to music to visualise "the sound of taste".
Each blast represents an individual note or chord in an original score by DJ and producer MJ Cole.
Client: Jeremy Shute, EMEA vice-president of marketing, Schwartz
Agency: Grey London
Creatives: Nils Leonard, Andy Lockley, Pauline Ashford and Mike Kennedy
TORONTO FC
Men and women all over Britain spit out their drinks at some surprising news: Jermain Defoe is to join Toronto FC.
The "bloody big deal" TV ad is a statement of intent from Major League Soccer club Toronto FC after the signing of Defoe from Tottenham Hotspur.
Client: David Freeman, director of marketing for the Toronto Raptors and Toronto FC, Maple Leaf Sports & Entertainment
Agency: Sid Lee Toronto
Creative: Tom Koukodimos
AIR FRANCE
The airline repurposed a London black cab to project laser images into the sky at renowned locations in the capital, having won approval from the Civil Aviation Authority to run the campaign.
The messages were intended to "banish January blues" by promoting cheap flights to far-flung destinations. The laser images also included the hashtag #AirFranceSky, intended to spread the message via social media.
Agency: Curb Media
The Scotch Malt Whisky Society
This case, containing illustrations by Joe Wilson, a whisky journal and three one-of-a-kind Scotch Malt Whisky Society (SMWS) whiskies, is designed to represent an "ever-changing sensory adventure".
The deluxe case welcomes new members to the Society in 2014 and aims to reflect the development of the organisation's more "colourful and fun" brand.
Client: Kai Ivalo, sales and marketing director, SMWS
Agency: Story
Creative: Sheryl Newsome
RENAULT
Central London was converted into a giant Scalextric track for a race in which a man and woman remote-controlled two Renault Zoe electric cars from inside a helicopter hovering above the city.
Client: Matt Lamprell, digital brand communications manager, Renault UK
Agency: Scorch London and Manning Gottlieb OMD
THE GUARDIAN AND THE OBSERVER
"Shed's on fire," is all a bewildered man can say while standing in his back garden in nothing but a pair of white pants, watching the structure burn to the ground.
A voiceover warns the papers' new "Do something" supplement should be used "in moderation", as demonstrated by previous scenes showing the man's trashed house.
Client: Richard Furness, director of brand and engagement, Guardian News & Media
Agency: BBH London
Creatives: Wesley Hawes and Gary McCreadie
MOTOROLA
The customisable Moto X smartphone is brought to life with a Wired magazine print ad that allows readers to change the colour of the phone in the ad by pressing a button at the bottom of the page.
The "world's first interactive print ad" was created by inserting circuitry and LED light pipes into a page made of polycarbonate.
Client: Barry Smyth, global marketing director, Motorola
Agency: Digitas
MINDS FOR MINDS
Long copy is manipulated to alternate between the perspectives of a mind affected by autism and those of scientists studying people living with autism.
The campaign raises awareness of research by a team of New Zealand scientists seeking to identify the genetic signatures of a mind affected by the disorder.
Agency: Whybin\TBWA
Creatives: Toby Talbot, Lisa Fedyszyn, Jonathan McMahon and Phil Kelly
CRIMESTOPPERS
Magicians and former pickpockets are filmed placing leaflets in the shape of phones and wallets into people's bags to highlight the dangers of pickpocketing.
People are caught unaware by the stunt, which neatly shows that if someone can so easily place something in your bag, they could take something out.
Client: Roger Critchell, director of operations, Crimestoppers
Agency: OgilvyOne
Creative: Emma de la Fosse