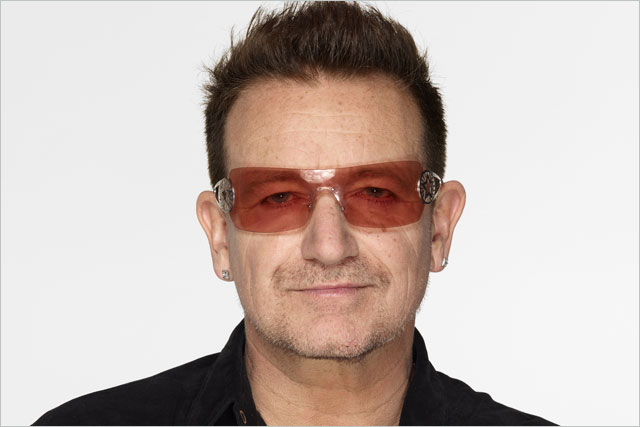 Bono was at Saturday's ceremony to receive the inaugural Cannes LionHeart award for his work co-founding the organisation (Red), which fights AIDS.
The Cannes LionHeart was conceived to recognise the person or organisation that has innovatively used its commercial brand power to make a positive difference to people or the planet.
He began his acceptance speech with an unusual introduction: "My name's Bono. I am the CMO of U2. Some of you may remember me as the guy who wrote the iPod jingle."
He talked about how his band was a brand, before firing a shot at the market research industry, to applause and cheers from the audience. He said: "The bit that we didn't like about being a brand actually if I'm honest was market research. Because you can't market research what people want next."
Bono said one of the challenges of promoting (Red) was "compassion fatigue", explaining how he spoke to a major UK newspaper recently who said they were not going to cover World AIDS Day this year.
He implored the marketing industry, which he called both "the creative engine of capitalism" and "the world's thermostat" to tackle this problem, and help his organisation keep up the heat and the intensity of the issue.
Bono explained how his work promoting (Red) to consumers was actually a way of getting the charity on the global political agenda.
The charity makes around $250m (£147) from consumer products and events, "but it's actually the $96bn that we get from government budgets that is the real number to have your eye on," he said.
Bono said the charity takes the message to people where they are – shopping centres, concerts, nightclubs – because "when the issue is on people's minds, funnily enough it seems to enter the minds of politicians."
He said: "In America, they call this pig-roast politics. I'll have a congressman saying to me, I'm not feeling this in my district., I'm not feeling it in my backyard at the BBQ. Which converts to I'm not feeling inclined to spend any political capital on your cause however worthy.
"But this isn't a cause. This is not cause marketing. When we started this, 8,000 people were dying every day from preventable treatable disease. That is not a cause, that is an emergency.".
Bono also thanked agencies and individuals with whom he works, before saying: "Where is [Freud's CEO] Matthew Freud? What a hero for (Red)."
Apple's Jony Ive presented Bono with the award. In a short speech he talked about Apple's approach to design.
Ive said: "I think so much of design is about problem solving. At Apple we try to solve problems. We try to create designs that appear so obvious, so inevitable, that you don't think really that there could be a rational alternative."