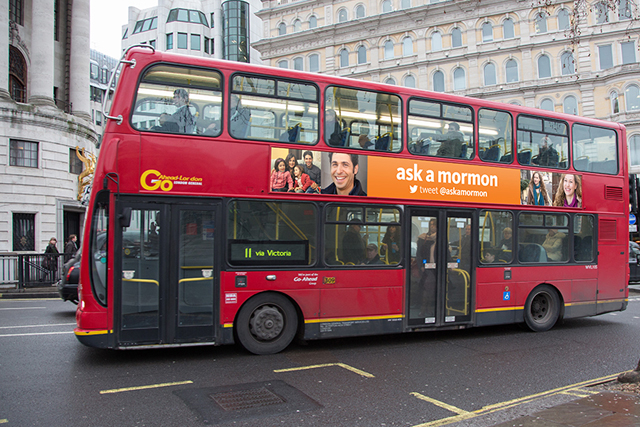 The campaign from the UK arm of the Church of Jesus Christ of Latter-day Saints includes ads on 250 double-decker buses and in 10 Underground stations across London. The campaign will also run in Charing Cross mainline station.
Across the rest of the UK and Ireland, the Church's campaign will be confined to the internet, where it will run "I'm a Mormon" ads until the end of 2013.
The UK and Ireland campaign invites the public to "ask a Mormon". It directs people to Twitter and the faith's own website in a bid to dispel popular myths and misunderstandings about the religion.
The outdoor activity will run until the end of May and was booked through CBS Outdoor (for the buses and the London Underground) and JCDecaux (for Charing Cross station).
The Church launched the campaign in response to the success of 'The Book of Mormon', the satirical, hit musical by the creators of 'South Park'. The show has led to an increased interest in the faith throughout the UK and Ireland.
In a statement, Clifford Herbertson, a leader within the Mormon Church, said: "There is a great amount of interest in Mormons right now in the UK and Ireland.
"People are asking the question, 'Who are the Mormons?' and when people are asking questions, we want to be here to provide them with the answers of how and why we follow Jesus Christ.
"When people get to know a member of our faith, misperceptions and misunderstanding quickly disappear and are replaced by mutual respect and friendship. These adverts are in no way a tacit endorsement of the play but we want those who have questions to know where they can find real answers."
In addition to the outdoor campaign, the Church is also running ads in the show's theatre programme, which say, "You've seen the play, now read the book," and "The book is always better".
The Mormon Church has been running "I'm a Mormon" ads in the US since 2010. It rolled out a similar campaign in New York in 2011, when the show launched on Broadway.