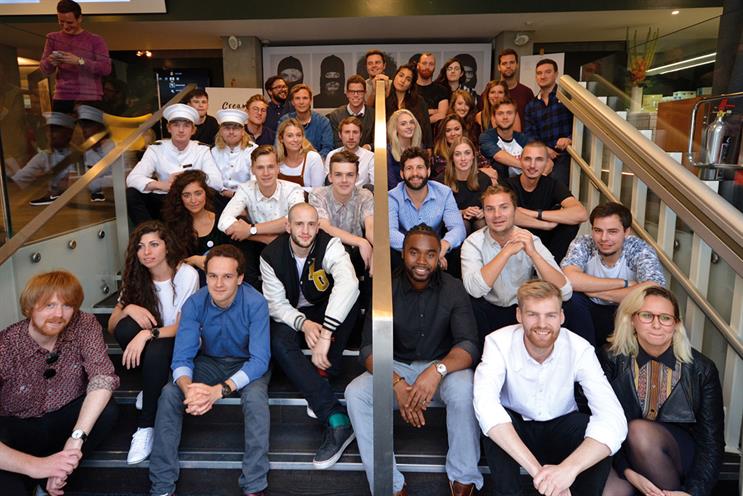 Could Pottsy [Rob Potts, the other executive creative director at Saatchi & Saatchi London] and I get a job in advertising today? How different is it for a creative team seeking their first job in 2015 to our experience in 1998?
That was my thought as I journeyed home last week. I'd just been to Cream, The Talent Business' show of the finest young creatives.
Could our work stand up against their slick digital displays? I needed to find our old book. Fingers crossed I hadn't chucked it or given it to that student team I felt sorry for.
Strangely, the office cleaners knew exactly where it was: "Bloody thing trips up my Henry every morning." Like a scene from Indiana Jones, we carefully unearthed the relic. Hopefully, no-one had stolen the Hawaiian Tropic "look like a local" campaign.
It was exciting. In all honesty, it ranked third in terms of student book excitement. Number one was Richard Flintham letting us see his and number two was John Webster asking to see ours.
Our book is better described as a folio. It's a classic 1998 artefact – A2 in size, black plastic cover, ring binders that don't quite hold in place, clear sleeves and full of TV, print and radio work. It was once used to prevent a child getting run over, but that's another story.
What about the work? It makes me laugh, mainly through nostalgia and its naïvety. But there's some good thinking, some outrageous work – take a bow, Tesco "fantasy supermarket manager". I wouldn't disown a word. Not even that Helly Hansen Teflon jackets campaign, "from the saucepan onto your back".
It's all presented in dodgy marker visuals, black-and-white photocopies and a lot of cut (real scissors) and paste (real glue). In comparison with the digital presentations at Cream, it looks like something that my infant school kids could make.
It also lacks digital executions. There are two phone numbers on the folio – ours, both landlines. If we weren't carrying mobiles, the book didn't stand a hope in hell of delivering on digital.
Given the tools of today, I could whip it up into a presentable 2015 order reasonably quickly. And most of the ideas would lend themselves well to modern media channels. If I did that, I reckon it might stand a chance at Cream. And it would feel like Jimmy Page and Robert Plant digitising and remastering Led Zeppelin I. Sort of.
But what was true in our day was just as true at Cream this year. It's all about the ideas. I'd choose a great idea scribbled on a tissue over a beautifully presented duff one. Any day.
So how different is the process of getting your first job in 2015? Well, back then, finding copywriters and art directors to see your book was like searching for a rave on the M25. Someone would scribble down a name, you would look up the agency and call the landline, eventually they would pick up, probably on the off-chance that you were the hot girl from TV. You would book a date, usually Wednesday or Thursday and always between 5pm and 7pm. Or first thing in the morning if it was Tony Barry.
Once at the crit, you would get weird advice. Such as: "Laminate it and make it look like it's run" (WCRS); "If it was in a different order, you'd have got hired, sorry" (Lowe); and "If I were you, I'd take that home and wank over it" (Tim Hearn, St Luke's).
Those face-to-face crits are the linchpin of being on placement. Back then, they were the norm, but not so much any more. Online folios are quick and accessible, but you don't get an immediate read on personality. In a crit, Andy McLeod once asked if we were cunts. He liked our book but needed to know our personalities were a good fit.
Still far from perfect, the placement system is better than before. As long as everyone adheres to the rights set out by Creature's Stu Outhwaite, things will improve. That's at least £366 a week, changing to £100 per day after three months.
We hired a team before they showed at Cream last year. They have since made work for HSBC, Pampers, Toyota and Direct Line and won Lions. I don't think that could have happened back then – there weren't the opportunities. You worked on trade and radio and bided your time until you had earned the right to the 30-second TV brief.
The teams at Cream are more rounded, fully formed and worldly wise. They offer more to the industry than we did in '98. And they are ready to be thrown in at the deep end. We trust our youngest teams. Hence our policy on youth. Young teams work hard, are hungry and, importantly, offer work we couldn't do ourselves.
Splendid show, The Talent Business and Grey London. Wearing the balaclava as I arrived home didn't scare the kids at all.
Andy Jex is an executive creative director at Saatchi & Saatchi London