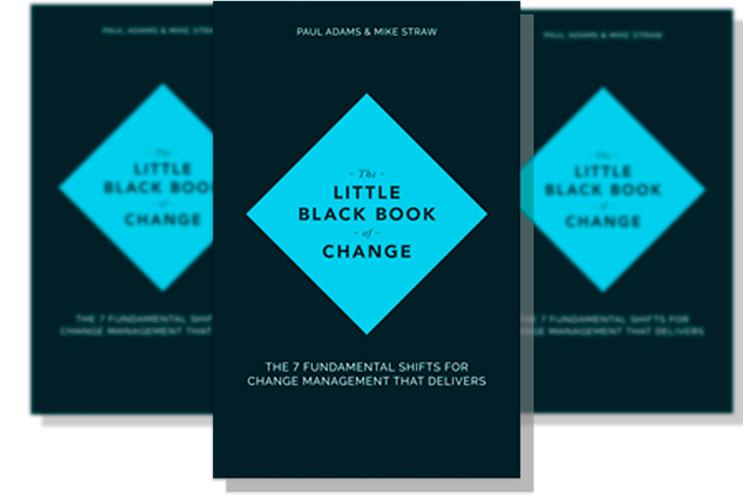 The Little Black Book of Change
By Paul Adams & Mike Straw
Published by Capstone
Reviewed by Mark Field, Mark Field, incoming director, The Bridge, News UK
Buy
In the movie Wayne's World, when asked by the evil Benjamin "How do you feel about making a change?" geeky Garth replies: "We fear change."
For me, this sums up people's attitude to change. However, when we were living in 'Boris' World' and when asked the same question, 52% of the country replied, "Yeah, bring it on."
We want change*". In our ever changing and evolving industry, if you haven't accepted that your business requires change and continual evolution with a culture that empowers its people to drive the changes required, then, for one you are probably in the 52% (shame on you) and secondly, you really need to read this book. While I steadfastly voted Remain (still gutted and in shock), when it comes to work I love a bit of change.
I really do. Working in the branded content space means continually reacting to changing needs and trends, delivering content our audiences want to read, and by crikey, we have to change a lot to meet their demands. So to keep my fabulous team on their toes, (although, to be fair, we will always be in the "storming" stage of the Tuckman model) I sought out an inspirational read that would help us in pushing the boundaries of our culture and continue to be the very best at what we do.
Like all you busy people out there, time is at a premium. And yes, I'll admit, the first thing that attracted me to this book was the word "Little" in the title. Little, great, that means that someone like me with the attention span of a goldfish, might just be engaged long enough to learn something.
Very helpfully, the authors have developed seven 'shifts' required to enact change or as they call them "The Magnificent Seven" (hang on, is this just a clever native ad for a movie coming out soon?). Seven steps, with real examples, explaining what is required to change an organisation from within and ensure you can create the type of culture necessary for success.
Having gone through a lot of cultural change in the business I work for, each of the Magnificent Seven were immediately familiar to me, and from chapters such as "Letting go of the past" to "Creating a bold new vision of the future" and "Engaging your players in that bold new future", I wondered whereabouts on my floor the two authors sit and what they look like, as this book outlined exactly the changes we have implemented over the last two years.
Having been through such dramatic cultural change, and might I stress, very much for the good, not only for the great people who work here but also for our business, I cannot stress how important having a great culture can fundamentally shift your business.
*As long as change means change back to a rose tinted view of the past
Crib Sheet
If you only have time for this … key points from the book
So did I learn anything? Well I learnt a few things that can 'sharpen' us, but if you are sitting in a business right now and if when asked the question "How do you feel about making a change?" you respond like Garth, then go and buy this book.

Follow its 'shifts", (sorry don't just follow them, embrace them, cuddle them, live and breathe them, dive in head first), then you'll find yourself and those around you smiling, working harder, feeling a part of something and being empowered to make a difference.

Then maybe, just maybe, we might find a way out of the situation we find Britain in today. Don't you just love democracy?