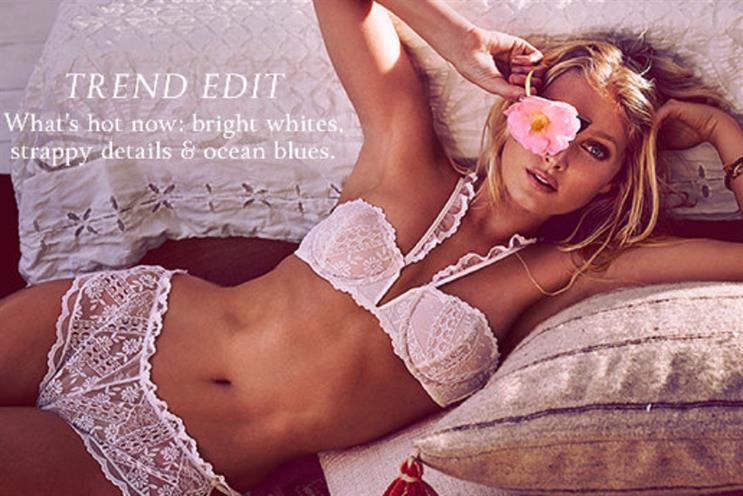 Right now lingerie is the hot category. It has sailed through the recent economic ups and-downs, with figures that could make other apparel categories blush.
It's natural that other brands are seeking to repeat the success of Victoria's Secret, but that won't happen by simply repeating their tactics
M&S's celeb underwear ranges are been given much of the credit for dragging the retailer back into growth, and French brand Etam even bagged the coveted opening slot at Paris Fashion Week.
Leading the boom is Victoria's Secret (VS). It's tempting to dismiss the busty brand as all body and no brains, but beneath the fake tan and highlights there's a smart operator who, having topped the US charts, has landed in the UK with a bang.
The best form of flattery
It's natural that other brands are seeking to repeat its success, but that won't happen by simply repeating the brand's tactics.
Lingerie's growth spurt offers an opportunity for genuine differentiation: a chance to de-commoditise a category that for too long has served up identikit brands and little real choice. But far from an explosion of diversification and imagination, what we're seeing is a mass jumping on the bandwagon.
It's becoming the norm for lingerie brands to launch each new range with a big budget fashion-label- esque show, accompanied by a celeb spokesperson.
Too often the response of those looking to compete has simply been to try and outVSVS.
The brands that truly challenge VS will be those that find the fresh spaces for growth, not those simply playing follow the leader.

So where can competing brands look to find those fresh spaces?
1. The consumer: big on attitude, small on technicalities
When asked, women say they select underwear on quality and fit.
We've watched them shop, they don't. VS have understood that with underwear, just as with fashion, women are seeking to make a statement about who they are. Selecting underwear is about selecting an attitude to express.
While fashion does attitudes brilliantly - think Cos,The Kooples,Topshop - lingerie is yet to get off the starting blocks. VS's secret is not so much that its point of view has mass appeal, rather that the brand is one of the few mass market players with a clear point of view.
The space is wide open for a brand that can capture an attitude that goes beyond the stereotypes (wannabe sex bomb, girl next door); to couple some genuine understanding of women with a bit of imagination.
2. Communications: intimates are no longer intimate
Social media is surfacing ever more images of scantily clad celebs, desensitising us to the sight of a woman in her underwear. The power of the discreet print ad - the lingerie category's favourite tool - has been reduced.
VS aren't the first to find more interesting ways to express themselves - flashback to those Wonderbra billboards - but they have taken it up a gear. Not just in terms of scale (multi-multi-million dollar catwalk shows, whole armies of 'Angels') but in identifying the media that expresses its attitude.
Plenty of brands are jumping on the 'catwalk show plus social media' bandwagon, but the brands that will cut through are those who identify the channels that best express their values to the right audience for them.
3. The experience: less emotional baggage, more benefit
Women today are used to shopping on their terms: apps, personal shoppers, social media plug-ins... Yet many still feel a large chunk of the lingerie category is pushing in the opposite direction: matronly assistants with tape measures and awkward changing room exchanges.
VS has flipped it and made one of the most uncomfortable purchase experiences lighthearted and fun, with an abundance of sales girls measuring you as you shop (over clothes), buzzers in changing rooms, plush cubicles.
For competing brands the interesting question now becomes which parts of the experience are still ripe for reinvention?
An established category going through a boom doesn't happen often. It's a real opportunity for both brands and consumers. It'll be a shame for all of us if brands merely serve up variations on a theme of the VS sex appeal.
Let's make sure lingerie doesn't close itself down before it's had a chance to really open up.
---
Recommended