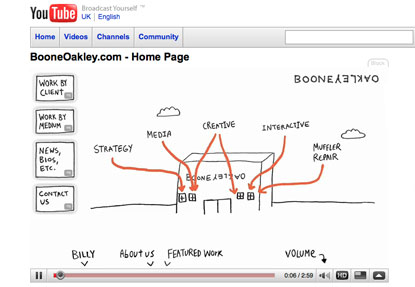 Visitors to www.booneoakley.com are redirected to a YouTube video homepage, which contains embedded links to other areas of the site – also made up from YouTube clips.

The North Carolina agency's site, which launched last week, has created a buzz on the blogosphere and Twitter, and has already attracted the attention of a number of potential clients.

Boone Oakley's president and strategic director, Phil Smith, told Campaignlive: "We needed to refresh our website but have a lot of work on so this seemed like a quick way of doing it.

"Happily, it also didn't cost us a penny."



The agency's creative team worked out that it could embed "annotations" – links within a YouTube video – to act as navigation to other sections/videos on the site.

Smith said: "Apparently this technology has been available for around a year but hardly anyone has used it before."

The homepage video is a film that takes a pop at large agencies for churning out work that is just like all their large rivals.

Smith said that three potential clients, including Cancer Research in the UK, had already contacted the agency about its availability for work.