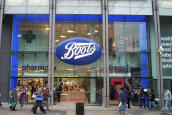 The high-street pharmacy, health and beauty retailer has approached pan-European and global ad agencies with a brief to generate consumer interest around the launch of the product across the Alliance Boots network of stores.
Boots is keen to capitalise on global interest in No7 Protect & Perfect sparked by an investigation by the BBC's Horizon programme, which found that the product stood out against more expensive rivals in terms of its positive effects on lines and wrinkles.
The retailer has already put the No7 brand at the heart of a global digital strategy, but is believed to be keen to invest in expanding its global in-store presence.
The agency search is not expected to affect Boots' relationship with Mother.
It is understood that Boots is also planning to develop the No7 range of cosmetics into a globally recognised brand by expanding its reach into other high-street stores through the Alliance Healthcare wholesale business.
The Boots Group completed its merger with Alliance UniChem in July 2006. It employs about 100,000 people in its wholesale and retail operations in more than 15 countries.