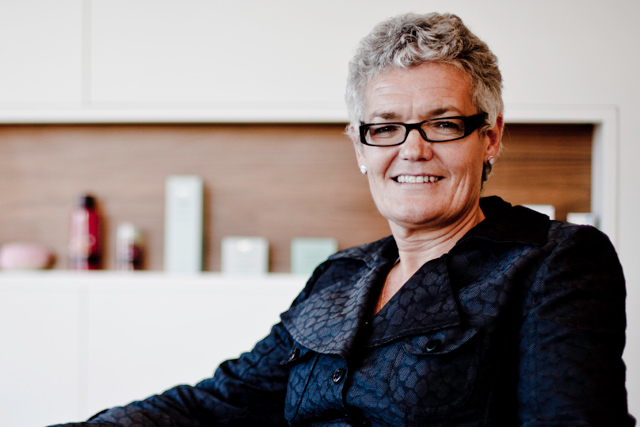 One of the things I love about my role is that it continues to be customer-facing in all its aspects. I try to visit stores and meet our customers as often as possible. I was recently in our Oxford Street store for the launch of No7 Protect & Perfect Advanced Serums. You might remember the storm of interest in 2007 when Horizon revealed that our original form­ulation had anti-ageing effects equivalent to a gold-standard, prescription-only treatment.
Never ones to rest on our laurels, the team at No7 has spent seven (a happy coincidence) years of research, reformulation and further extensive scientific testing to develop the latest range with even greater anti-wrinkle benefits, and it was great to meet customers buying the new product for the first time.
With so much hype about the launch, we had a waiting list of more than 4500 customers, which was astonishing.
To build excitement, only our No7 Advisors had been briefed on the product so the rest of our store colleagues were finding out about it for the first time along with our customers, which made it a great morning to be in store. The atmosphere was electric, something we always hoped for, but the reaction from our colleagues and customers surpassed all our expectations.
Another huge part of my day-to-day role is leading the strategic direction of the Boots brand across the group's Health & Beauty division, as well as the strategic framework for Boots product brands. We're in the early stages of the International and Brands team and are working to develop category and portfolio frameworks to ensure that the appropriate brands appear in each of our markets and we offer ranges that are truly differentiated.
This means I spend a lot of my time discus­sing customer insights by market. But every­thing we do is focused on being in tune with our customers' lives and what is important to them in order to create products that help them look and feel their best, so this is some­thing we can never spend too much time on.
I attend as many marketing conferences and awards ceremonies as I can, not only to build my own knowledge, but also to meet the diverse talent in our industry.
At the beginning of June I was in Norway sharing the Boots 'Let's feel good' strategy with the leadership team there. Luckily for me, their linguistic skills are such that I was able to present in English to the 200 leaders of our business there without the need for a translator – maybe with the exception of one or two of my Scottish phrases.
We also have a growing business in the US, which the team there continues to develop by building relationships with customers. Every month I spend time on the phone or video conference with the team to ensure they have the insights, products and marketing support from our agencies that they need.
When I'm not working with our teams to develop strategic frameworks or visiting stores, I try to attend as many marketing conferences and awards ceremonies as I can, not only to build my own knowledge, but also to meet the diverse talent in our industry.
Recently I was privileged to be asked to speak at Mumstock (an event run by Mumsnet that focuses on marketing to mums in the UK). Mums, as you would imagine, are incredibly important to Boots UK, with almost 1m members of our Boots Parenting Club, so Mumstock presented a perfect opportunity to share insights on how we can better connect with today's mothers.
I also attended the inspirational Gather 2014, a unique training event for the next generation of female talent in the com­munications industry, organised by WACL. The "She who dares wins" event looked at taking risks in business, and the women I met there more than reassured me that our industry is developing a wealth of talent who will lead us in the future.
I was also given the opportunity to present an award at the CEW (UK) Beauty Awards. It is always such a pleasure to learn more about the innovative and game-changing products on the market, as well as celebrate everyone's hard work throughout the year. What made it more special was the opportunity to present a special anniversary award to Barbara Hulanicki OBE, whose creative style defined a generation. Hers is a story of a remarkable and very creative young woman who had a vision which became a reality and, through the founding of Biba, changed the fashion-shopping habits of Britain.
Barbara sets a wonderful example for the young women I meet every day of how the right passion, drive, talent and tenacity can deliver a long and successful career.
As you can probably tell, my job involves a lot of travelling, which can sometimes be difficult. However, opportunities come along that make every late night worthwhile.
In my spare time I love to jog; it is my down time when I can mull everything over and relax. I was therefore over the moon when, at Google Create, I had the chance, along with 50 others, to run with a true hero of mine, Mo Farah. As you would expect, I was "Tail End Charlie" – however, the lovely Jenny Ashmore, CMO of SSE, stayed by my side, so even jogging provided an opportunity to meet talented women from our industry.