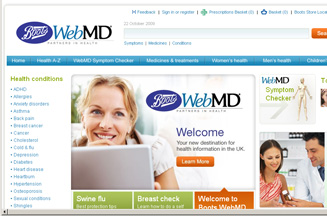 www.Boots.WebMD.com has been set up in collaboration with NHS Choices, the British Medical Journal and various charitable partners. The site has also partnered with the global health information website, WebMD.
Customers can access information on medicines and health conditions as well as daily news, videos and interactive tools such as a symptom checker.
Boots UK is launching a 'major' marketing campaign to promote the new site. Activity will run in multiple marketing channels and the retailer will promote the site to Advantage Card holders, as well as in its health and beauty magazines. There will also be online advertising as well as in-store signage and promotional activity.
Alex Gourlay, chief executive of Health & Beauty Division, Alliance Boots said: 'More than 70% of the UK population is online and the majority of adults online are seeking health information. Boots WebMD is leveraging the power of the Internet to change health services for consumers in the UK.'