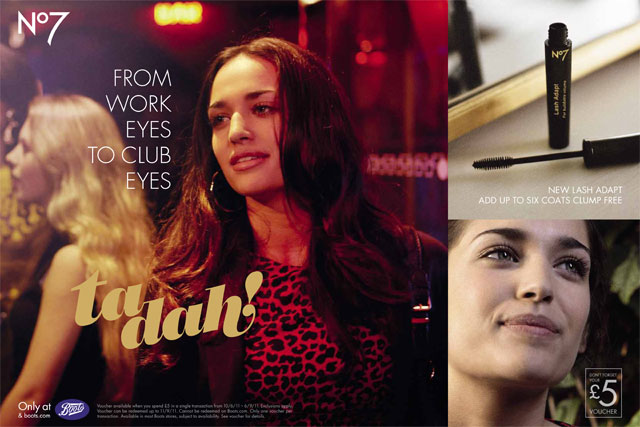 The 'Ta-Dah' brand campaign, created by Mother, breaks on 10 August across print, outdoor, in-store, digital, PR and direct mail. The first TV ad will air in September.
The campaign aims to show that No7 products "really work" by using images of models that have not been airbrushed or retouched and ensuring none of the models have received cosmetic surgery.
In addition, No7 is clear that the campaign does not "misrepresent the efficacy" of its products by using enhancements such as false eyelashes in the creative.
The ads will show a close up of the models and products, demonstrating the "ta-dah" moment which women experience by using the brand.
Amanda Walker, head of No7, said: "No7 has always been a brand committed to making all British women look and feel beautiful. This dedication requires a deep understanding of British women, their thoughts and feelings towards beauty.
"What we want to show with the 'Ta-Dah' campaign is a moment in time that all women have, when they know they look and, perhaps more importantly, feel their absolute best."
In April this year, the Advertising Standards Authority (ASA) released new guidelines on cosmetics advertising. Brands and advertisers must ensure that their communications do not mislead consumers by exaggerating the performance of an individual product.
Pre and post-production techniques, such as styling, eyelash and hair extensions and retouching should be used carefully to avoid any misleading images for consumers, while the use of superimposed text to clarify enhanced images should not be considered a "carte blanche" excuse for this use.
In November last year, the ASA banned a television and print ad for a Rimmel London mascara that claimed misleading results through the use of lash inserts.
Last week it banned two L'Oréal cosmetics ads featuring Christy Turlington and Julia Roberts, following complaints by Liberal Democrat MP Jo Swinson that they had been digitally manipulated.