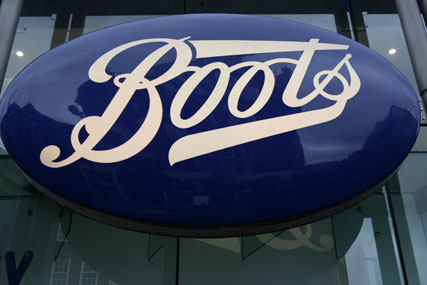 The 'let's feel good together' positioning will involve a new iconographic design that shows off the different specialist services provided in store.

Peter Bainbridge, director of pharmacy at Boots UK, said the changes are being accelerated by the new health and social care bill coming into force next year, which means "different pharmacies offer different services moving forward".

Currently the NHS uses national commissioned services, but these will be replaced by clinical commissioning groups that will have more autonomy to decide which healthcare services and advice will be provided within their geographic area.

These groups will be able to recommend whether issues such as diabetes, asthma or sexual health are made a priority in pharmacies in their areas.
Boots will use iconography to flag up an individual pharmacy's speciality, including an icon featuring an asthma inhaler for asthma services or a plane for the travel vaccination service.

There are currently around 30 icons, which are being rolled out to 2,500 stores nationwide, with more due to be rolled out in the future.
Helen Jeremiah, head of healthcare marketing at Boots UK, said: "What we wanted to do with our new look and feel was to make it more accessible to our customers.

"For example somebody who is suffering from diabetes could be either a teenager or over 60 so some of the lifestyle imagery means that the lifestyle imagery is not as relevant to them."

The icons been designed by Boots' ad agency Mother.
The new messaging will be communicated in press advertising with the potential for TV advertising to raise awareness of some services such as eye health.

Boots is also looking to expand its pharmacy services in hospitals and introduce GP and dentist surgeries in its larger stores.

Bainbridge said: "Where there is an opportunity for a doctor or dentist to work in conjunction with our pharmacist or optometrist then we will do that.

"We are also expanding and we want to expand some of our pharmacy services, so for example in Birmingham and Derby we now have Boots situated in the outpatients pharmacy at the hospital, which hospitals love because we provide great patient care and they like having the Boots brand sitting in the hospital."

The brand has already introduced GPs and dentist surgeries in-store and has one store in Manchester that has both types of surgery.

A Boots spokeswoman added: "We are not going to be rolling out a chain of GP or dentist surgeries.

"It is about having conversations in the local area about what opportunities there are to us to work together to provide healthcare services."
Follow Matthew Chapman at @mattchapmanUK