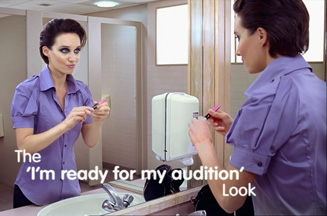 The campaign, created by ad agency Mother, shows a female office worker using cosmetics from Boots to 'dramatically' change her image.
The 'makeovers' aim to show how a new look can help women feel good about themselves. They feature taglines including 'I'm ready for bigger things', 'No, I didn't have a late one' and 'Caught you looking'.
In one of the ads, which has the taglline 'I'm ready for my audition', an office worker is greeted by enthusiastic colleagues wearing T-shirts with the slogan 'vote'.