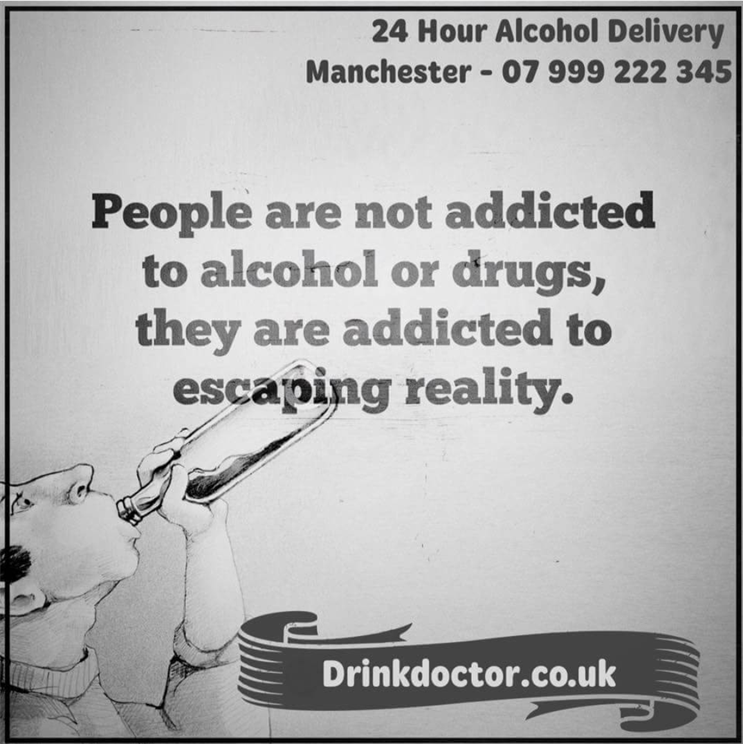 The ads, seen in December, featured:
A cartoon of a man drinking wine from a bottle, with text reading: "People are not addicted to alcohol or drugs, they are addicted to escaping reality"

Text reading: "According to chemistry, alcohol is a solution"

A man drinking from three wine bottles simultaneously with the text: "In Jerusalem there is the Wailing Wall. We have the WINEing Wall in Manchester"

A photo of Noel Gallagher, with the text "I see people all the time going to therapy, thinking they've got a problem. What's up with everyone get onit, order a Crateman and live a little...or a lot"
One person suggested the ads were irresponsible because they encouraged unwise drinking, and trivialised alcohol addiction.
Drink Doctor said it had simply attached its brand to popular memes, but could see how sometimes that could be deemed a little inappropriate.
But the Advertising Standards Authority decided that the ads went beyond this. It said that across the four, Drink Doctor had encouraged excessive drinking, promoted alcohol as a solution to people's problems and a way of "escaping reality", and encouraged people with an alcohol problem to continue to drink, rather than going to therapy.
It ruled that all four ads breached the CAP Code rules on alcohol, and ordered that they not be used again.