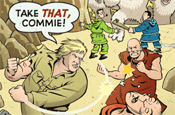 The agency has produced the strip "Four Feet From a Rat" as part of its new publication, which will be handed out with entertainment guide Time Out.

It is the third time the agency has produced such a graphic book for the magazine.

Dermot McPartland of Mother said: "We are currently negotiating with Time Out magazine about more editions of FFFAR appearing.

"Meanwhile we have been approached by a number of media owners about supplying the strip as an episodic series next year too."

He added that Time Out New York was currently looking at running a similar series of comics about the city.

CREDITS

Creative Director: Mother
Copywriter: Mother
Art Director: Mother
Designer: Jim Bletsas
Publisher: Mam Tor
'Pocketful of posies': Liam Sharpe
'Raw Meat' Artwork: Dave Kendall
'The Observers' Artwork: John McCrea
'The Little Guy' Artwork/Cover Artwork: Chris Weston
'Pocketful of Posies, Little Guy, Raw Meat, and The Observer's Logo Design: Jim Bletsas/Rafe Greenlaw.