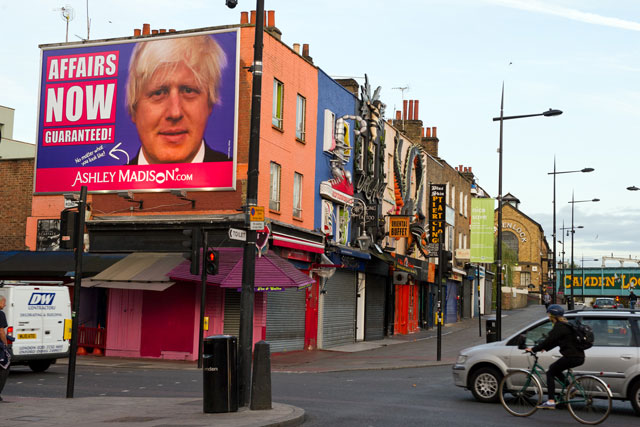 Ashley Madison offers married people a discreet opportunity to seek extra-marital affairs. The US company launched in the UK last year.
The ad features a picture of Johnson, used without his permission, alongside copy, which says, "Affairs Now Guaranteed! No matter what you look like".
It was unveiled in Camden on Wednesday and will run for two weeks. The company claims it will run across the rest of the UK in the coming weeks although media schedules have not yet been planned.
It is understood that Johnson, who was alleged to have had an affair in 2004, is seeking legal advice but no action has been taken as yet. The mayor's office would not comment on the ad.
Ashleymadison.com chief executive Noel Biderman said the company is well within its rights to post the billboard and has already sought legal advice.
He said: "We have our own 'magic circle' law firm who have assured us this is a perfectly allowable form of advertising and in fact, if the Mayor exerts the influence of his office to take it down we will proceed with our own legal action for tortuous interference of a business venture.
"We pay taxes in the UK and have the same rights as any legal corporation.
"The mayor typifies what Ashleymadison.com is all about. He represents the busy, well-off professionals who flock to our site every day."
The Advertising Standards Authority has not yet received any complaints about the ad.
Biderman launched the site on Valentine's Day 2002. It has since attracted more than 15 million users seeking discreet relationships across 15 countries in which it operates, according to the company.