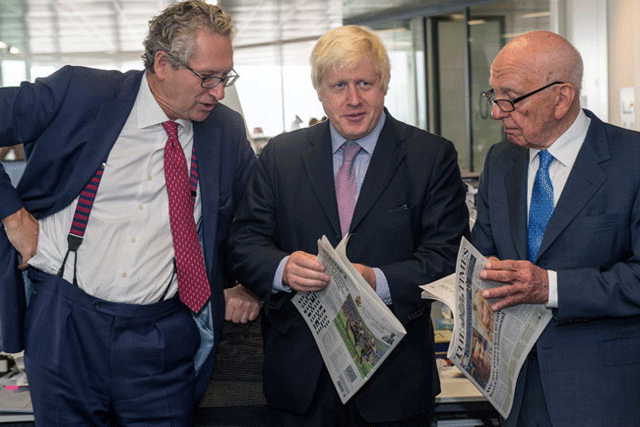 The relocation of The Times Literary Supplement team at the weekend was the the publisher's last relocation from Wapping, bringing the number of staff occupying the News Building to around 2,400.
A further 1,000 employees from Dow Jones and Harper Collins, also subsidiaries of News Corp, will move in over the autumn and winter.
Mayor of London Boris Johnson joined News Corp chairman, Rupert Murdoch, chief executive Robert Thomson and News UK chief executive, Mike Darcey to unveil a plaque and officially welcome staff to the new building.
Johnson joked about how his own stint working at The Times had come to an abrupt end 30 years ago, and remarked on the number of unsold copies Harper Collins still has of his book.
He called The Times, The Sunday Times, The Sun and The Sun on Sunday, "the four constituent parts of the oldest and most successful union in the history of Fleet Street". The Tory Mayor went on to praise News Corp chairman Rupert Murdoch as a "wise, benevolent, and far-sighted monarchical figure".
News UK chief executive Darcey said: "Today marks a critical milestone for our world class journalism – the inimitable headlines, game-changing polls, first class commentary and courageous investigations. Our journalism sets the agenda and sets the standards and in this home I am confident we will secure its future for generations."
News UK has donated 88 Nexus and iPad tablets to eight local libraries in Southwark. Each are loaded with complimentary digital subscriptions to The Times and Sunday Times.