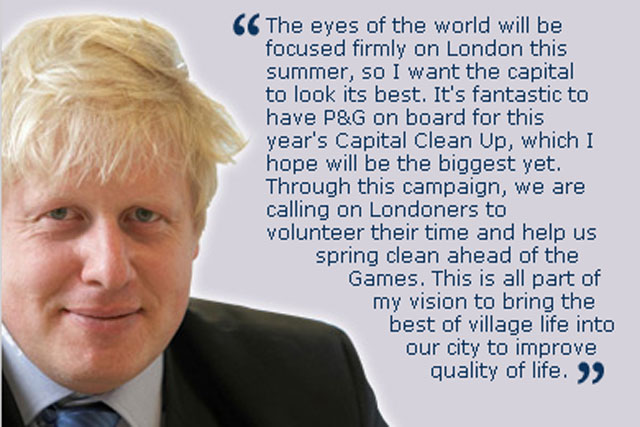 The campaign has been renamed the 'P&G Capital Clean-up' and will feature a series of events hosted between March and June across the city in the run-up to the London 2012 Olympic Games. Mayor Johnson hopes they will improve Londoners' "quality of life".
British actress Keeley Hawes has been named P&G's Capital Clean-up ambassador in support of the campaign. She said that as a Londoner, the activity gave the city a sense of "community pride".
Promotional activity for the cleanup features P&G household brands Flash, Febreeze and Ariel. A Flash "landmark" on the Southbank will draw attention to the activity, while Febreeze will create a series of "Fresh Havens" for Londoners to enjoy.
The promotional work will be supported by an Arial-branded app that encourages Londoners to report "stains" across the capital.
The campaign is part of P&G's 10-year global partnership with the International Olympic Committee (IOC), which began in 2010. This clean-up campaign will be continued through similar activity for the next four Olympic Games – at Sochi 2014, Rio 2016, Pyeongchang 2018, and the 2020 Games.
P&G expects around 1,700 people to participate in more than 20 clean-up events planned for London, with the aim of clearing more than 1,000 bags of litter, while removing graffiti and restoring natural habitats in the capital's green spaces.
Consumers can sign up to the events at www.pgcapitalcleanup.com.
Irwin Lee, P&G UK & Ireland vice-president and general manager, said: "We're committed to helping London look its best ahead of London 2012, when the world's attention will be on our capital.
"We hope that through the efforts of the P&G Capital Clean-up, the rest of the world will feel the pride that we all share for this great city."
Johnson said: "It's fantastic to have P&G on board for this year's Capital Clean-Up, which I hope will be the biggest yet. Through this campaign, we are calling on Londoners to help us spring clean ahead of the London 2012 Games.
"This is all part of my vision to bring the best of village life into our city to improve quality of life."
P&G has set up a series of initiatives to benefit sports enthusiasts and athletes' mothers during the Games, and in January, it announced plans to raise £3.5m during 2012 to establish youth sports programmes around the world.
Follow Loulla-Mae Eleftheriou-Smith on Twitter @LoullaMae_ES