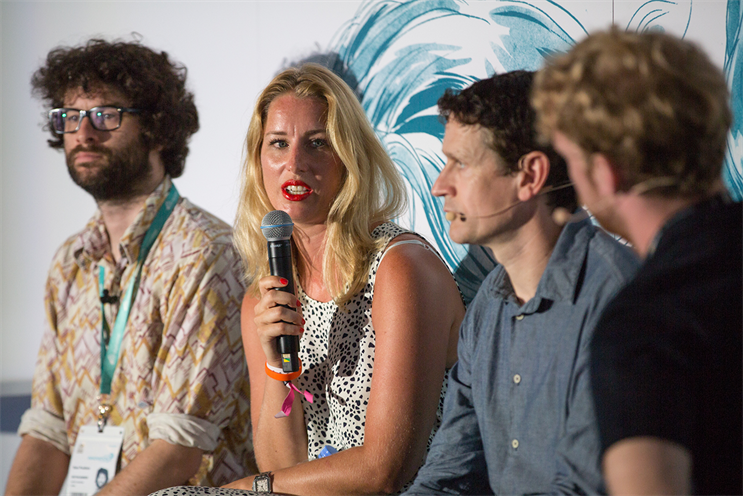 Tom Ollerton, innovation director at We Are Social, led a future-gazing panel at Cannes to discuss the trend towards automation, the line between humans and bots, and how bots are changing the way brands and consumers connect.
Getting a reaction
Bots can help brands have human interactions, but getting the tone and timing right is crucial. Bruce Daisley, EMEA vice president at Twitter, explained that incoming messages to brands have doubled on Twitter in the last two years. Brands are increasingly finding themselves forced to address customers here, whether they liked it or not. "Brands need to work out ways to improve the service they are providing." The critical thing, he added, is that half of the interactions are from people who just want to be heard and have a response. "To a large extent, if you do that elegantly it can be done by a bot."
Not only is there is a strong correlation between people receiving responses and becoming a paying customer again, but, Daisley explained "if the response was cut from 20 mins – the classic customer service response time, to less than three or four minutes, there was a fivefold increase in the spend".
This shows that speed (in which bots have the advantage) is a key player in the success of customer interactions, particularly visible on a platform such as Twitter, as customers reach out with an unclear expectation of when they will receive a reply. "Bots are one of the most effective ways to reduce the period people are waiting… brands can turn this interaction into something which is returning people to a purchase funnel and encouraging them to respond," he said.
Keep it personal
Personalising interactions is as critical. Sille Opstrup, head of digital at Pernod Ricard UK, gave the example of building a bot to help cocktail lovers become cocktail makers by picking the right cocktails for them: "When we started seeing the conversion coming through it was at 30% which is extremely high. It was a great medium to help guide consumers to make a choice that is right. We can become more contextual and conversational in those experiences we give the end user, which is more meaningful. It has the potential to be so powerful."
She added: "Not having a strategy would be a very bad strategy."
Daisley flagged Tesco's "very sophisticated" bot, which splits consumers into their personal-needs categories – loyalty card requests, online delivery requests and others. "It takes people down a well defined, well shaped path where responses are instant. We're seeing rapid innovation," he said.
Sam Poullain, senior growth manager social media and content at Skyscanner agreed: "To ensure you create a connection with those interactions, you have to show consumers they have a value from using your bot. Start with what you want to solve for user. Gain their trust and make it clear how it benefits them – we didn't get our onboarding quite right at first."
Touches such as alerts or personalised recommendations can add even more value and keep customers hooked. "If that value is there and clear, they have the relationship with us… in this brand new medium you have to have a clear use case."
The humans are still better
But trust and personalisation can only be taken so far by bots – at least for now. There are things that humans do better.
As Opstrup said: "Being human is something bots just aren't that good at. There's a discussion to be had around how we let bots do the jobs they are really good at and free up time for us to do things we're really good at. We can direct our efforts into creating more human touches to those experiences."
Striking a balance between humans and bots is something that Poullain treats carefully at Skyscanner. "We have to clearly define that user journey and we have to offer the option to talk to a human," he said.
Touching on the tricky onboarding process that Skyscanner experienced early on, he continued: "A lot of people got stuck inside the bot and didn't figure out how to move around in there. For a brand that uses both humans and bots, you have to think very carefully about where can a bot help and where can a human help, and which is more effective. Time saving is very important."
Poullain advocates a separation in the roles undertaken by humans and bots, but, rather than drawing a permanent division between them could a clever blend help to build better relationships? Ollerton put it to the panel, how much personality should you give a bot?
"People recognise they are dealing with an automated service and sometimes giving it a personality can seem jarring," said Daisley. "When you get a high quality finish that is machine-generated, it tends to work better than a slightly frivolous jokey character."
"Balance is something you learn through trial and error," said Poullain.
Can robots gossip?
The group agreed that, with bots becoming ever more integrated with everyday things, brands had to be very careful with bots chipping into human conversations on a larger scale. "There's a trust relationship there that I suspect would be quickly breached if people felt their conversations will be intruded into," said Daisley. Poullain and Opstrup agreed that it must be the proactive choice of the consumer to invite the bot into interactions.
So for now at least, the way brands use bots is very much in the early stages of development. The panel said it's still in infancy: bots can clearly offer brands a vastly closer connection with consumers but brands must tread carefully. "Anything that upsets an end user is not a good place to be," said Opstrup. "But we can look forward to more social conversational commerce, and more bots integrated into everyday products, like cars, which will make it richer as an experience overall."
As Daisley said, "most examples we've seen have proved a success… testing is the best way to get going."